MY closet is filled with a variety of on-sale purchased high-end designer clothing and shoes, nearly all black and suitable for almost every new york occasion, but not for the trip to israel i was planning in march, 2014. I consulted my chicest, best-dressed friend, a long time fashion industry executive and insider who'd taken a similar trip a year earlier. "what clothes did you wear?" i asked, searching for wardrobe clues. "chico's, i think. Mostly black, matte jersey." chico's!!! I couldn't quite believe it. This is a woman who is a fashion icon, but clearly not a fashion snob. So, i followed her lead and headed to chico's in search of clothes that would be comfortable, suitable for multiple occasions, seasonless, packable and, dare i hope, fashionable.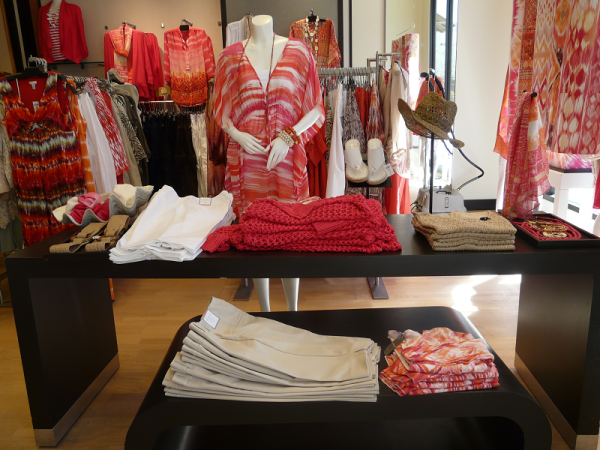 What I found surprised me.
The average chico's store is about 3000 square feet although the store in my neighborhood is much smaller than that and jam-packed with, at first impression, a lot of strong prints. Those prints are essential to both chico's merchandising formula and customer expectations. They provide a sense of newness and fashion; they are unique, designed by chico's as originals. Prints represent the company's heritage and give the customer a reason to buy something new. Animal prints abound, "leopard is a neutral for us," remarked a senior chico's executive in a recent interview. The merchandise is grouped into lifestyle segments including a travel section, travelers by chico's, made up of mix-and-match, foldable, wrinkle-impossible separates (and one wrap dress) in a matte jersey like fabric. The palette is basic colors – black, brown, navy, with the print accent pieces mixed in to give it some flair. There are also very wearable no wrinkle blouses in white, black and some bright colors, which coordinate well with other separates on the floor like tanks, tee's and stretch jeans. There is a table of good looking, well priced, color coordinated costume jewelry to finish a look, another mainstay of chico's merchandising.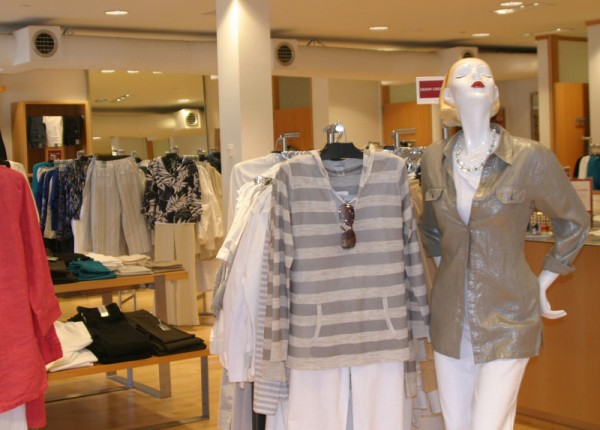 In this crowded store, dressing rooms are small and without mirrors, but there is a central mirrored area with adequate space for deciding what looks good and what does not once tried on. Knowledgeable, helpful and friendly Chico's sales associates help what appear to be happy, regular, repeat customers find what's right for them. Superior customer service, "Customers First," is the first of five Chico's core values and a contributing factor to Chico's success. Employee paychecks are signed, "The Chico's FAS Customer," a gentle reminder to all of customer importance. Repeat customers are a mainstay of the business. Chico's incents them through its registered 'Passport' customer loyalty program offering a 5% discount on all purchases, among other benefits, once they reach a non-expiring $500 spending threshold. Importantly, the Passport program collects actionable customer data which is used effectively for both promotional and merchandising purposes. Chico's knows it serves a loyal customer base who accounts for an outsized portion of business. Customers come back to Chico's regularly to see what's new. They are sent frequent catalogue mailings and coupons based on past purchase activity. Chico's maintains a constant dialogue with its customers enticing them to come to the store, catalogue, or web site to buy something new.
The Customer Demographic
The only younger women in sight at chico's are the daughters and granddaughters accompanying their moms and grand moms on shopping expeditions. Chico's is a store for older consumers, 40+ — and there is no mistaking the fact observing the customers and the merchandise. This is the one store where many pants waistlines are elasticized; over-blouses and tunics are designed to hide upper arms and tummies, and "hidden fit technology" adds comfort to chico's so slimming jeans. A blessing for older customers whose figures are no longer what they once were. Those knowledgeable sales associates and managers are of a certain age as well and are outfitted smartly in chico's merchandise and costume jewelry showing it off to its most fashionable and wearable advantage. Promotions abound. In fact, it is almost impossible to judge actual prices because practically everything in the store is on one promotion or another – buy one get one at 50% off; 60% off all spring merchandise; friends and family discounts, and the like. Well priced to begin with, my purchases found additional discounts at the register.
Family Heritage
Chico's was founded 1983 as a small boutique in sanibel island, florida selling mexican folk art and sweaters imported by its owners, marvin and helene gralnick. Chico's was a darling of retail after it went public in 1993, but lost its focus when the gralnicks retired soon after. The gralnicks returned twice after retirement and the brand ultimately zeroed in on an underserved older, aging baby boomer customer. Chico's did well for a while, but, again lost its focus and also experienced operational difficulties. In the last quarter of 2008 chico's had a $40.5 million net loss. Its stock price was $2.55 per share down from a high of $47 in 2006 the year the gralnicks retired permanently.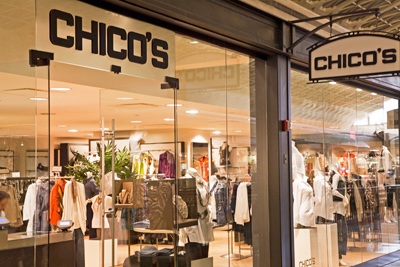 In January of 2009, David Dyer, a member of Chico's Board since 2007, became Chico's FAS President and CEO. Dyer is a veteran retailer who began his career at Burdines, spent 17 years in senior merchandising positions there, joined Lands' End in 1989, eventually becoming President and CEO where he negotiated Lands' End's sale to Sears. Shortly after his arrival as CEO, Dyer hired Cinny Murray, also a retailer with 30 years experience, as President of Chico's who has led the effort to return the brand to its roots and regain the favor of lost customers. By many indications, Dyer and Murray, along with their design team in their 146,000-square- foot headquarters in Ft Myers, Florida, have made strides regaining and investing in their customers. They achieved comparative store sales increases of 5% to 7% until late 2013.
Tech Savvy
While challenges continue, Dyer has brought the brand back to its focus, "we had people that wanted our customer to be a little younger and more contemporary…so we lost focus on the customer and that really started the problems," Dyer said in a recent interview. Dyer also made significant investments in infrastructure and technology. In 2010 the company invested over a third of its capital budget in systems. Dyer is no stranger to data driven marketing; customer data analytics allow Chico's to see the interplay between the stores and the web and plan accordingly. Chico's presents itself as an omnichannel retailer – although it is hard to be anything else these days. If you visit a store you can experience this firsthand. Associates in store regularly advise customers to look for a specific item online. Some sizes, in the extra small and extra large spectrum (Chico's has its own special sizing system) are not even available in store and can only be purchased online. The same holds true for shoes, which, with few exceptions, are sold only online eliminating the need for storage at store level and complicated inventory management. "If the shoe fits enjoy free shipping. If not, enjoy free returns," Chico's web site declares. Customers seem acclimated to this formula. Like many retailers, Chico's reports what now seems to be universal consumer behavior. Customers shop on-line to see what is new, and, then, go to a store to buy. Or, the reverse. It has to work both ways seamlessly in today's environment or don't even bother.
Multi-brand Marketing
Chico's fas is not just chico's. It is a multi-brand specialty retailer of private brand apparel operating under the chico's, white house black market (acquired in 2003), soma intimates, and boston proper banners. Chico's fy '14 sales were $2.64 billion. What's unique about chico's is that all of the brands target customers over 35, with mid to upper incomes of $50,000 to $100,000, who want affordable fashion with distinctive design, comfort and ease of care. What other retailer talks about comfort? Ease of care! How many retailers are courting older customers, go to lengths to understand their lifestyle and show them – looking great of course — in all of their media and communications. It simply goes against the grain of the retail industry.
As of early 2014, chico's operated 1,472 stores in the us, 611 chico's; 434 white horse black market; 232 soma intimates boutiques; plus outlet stores and ecommerce sites for each brand. Soma intimates, launched in 2003 as a part of the chico's brand, may well be positioned to take a sizeable piece of the intimate apparel market, especially among older women whose lingerie needs may be better served, functionally, and with equivalent style, by soma than by victoria's secret. Chico's and soma account for over 63% of net chico's fas sales – chico's does not break out sales of chico's and soma separately– white house black market, positioned for an over-35 professional woman, accounts for 33.2%; boston proper, a more recent acquisition, 3.8%. S & p projects sales of $2.88 billion for fy '15 based on additional retail expansion. Chico's envisions over 2000 stores in the foreseeable future including 800 to 850 chico's and over 600 soma brand stores.
In Transition
After a weak first quarter, profits at chico's fas were down by 22%, and same store sales down 2.6% — the result of higher costs and lower traffic due to the unusually extreme weather that plagued most retailers this season. Chico's pulled back its planned store expansion program from 120 to 130 new stores and outlets to 107 for the current fiscal year. Although customer traffic has been weaker than desired, customer conversion rates– the percentage of customers who come to a store and actually make a purchase — are reported to be higher than industry norms.
At this writing there is some unusual activity in chico's stock, which was trading sharply higher on "chatter" about the company going private. On june 9, 2014, the financial times reported that chico's is "exploring a sale to private equity and has discussed a deal with potential suitors that could lead to one of the largest take-private transactions" this year. In april, 2014, leonard green & partners, retail private equity investor and owner of j.Crew, revealed a 1.34% stake in the company. At the end of september, 2013, activist investor, blue harbour group disclosed a 5.6% a stake in chico's.
What these investors see, chico's reportedly has no debt, and, perhaps a chance to earn billions via intricate stock maneuvers (that are greek to me) is a company which has a solid footing in its business proposition. Chico's' focus on an underserved, aging baby boomer core customer meets limited competition from other specialty retailers who are chasing ever younger and more fickle girls. Higher conversion rates at chico's don't surprise me. Of course customers like chico's where they are welcomed and feel at home with like minded and similarly aged customers and sales associates, are treated well and can find easy care, good looking, well priced clothes that fit and look good on older bodies. In fashion young and new has always been what is important, but chico's has turned that premise on its head by catering to older customers and making them feel good about shopping and buying in chico's. Disruptive, in its way. Maybe not like a 3d printer, but in a more fundamental way that is often overlooked in today's overstored retail environment. Defining a customer, knowing her, understanding and meeting her needs and maintaining that customer focus in a world where everyone always wants to do something new and different – that is simply good business. Let's all stay tuned and see how the financial wizards play this out. In the meantime, i am going to go over to chico's for a pair of those so slimming jeans.
About Jane Singer
Jane singer is a consumer product marketing consultant specializing in branding and marketing strategy. She began her career at grey advertising, has held senior executive positions at bbdo, bozell worldwide, and marc usa, and has worked with clients including kmart, neiman-marcus, rite aid drug stores, office depot, the sports authority, visa, liz claiborne, vf corporation, gold toe, and others.