The Book of Roads and Kingdoms

Booktopia Comments
For a limited time only, order a copy of The Book of Roads and Kingdoms and you'll receive a copy signed by Richard Fidler. *Available while stocks last
Product Description
A lost imperial city, full of wonder and marvels. An empire that was the largest the world had ever seen, established with astonishing speed. A people obsessed with travel, knowledge and adventure.
When Richard Fidler came across the account of Ibn Fadlan – a tenth-century Arab diplomat who travelled all the way from Baghdad to the cold riverlands of modern-day Russia – he was struck by how modern his voice was, like that of a twenty-first century time-traveller dropped into a medieval wilderness. On further investigation, Fidler discovered this was just one of countless reports from Arab and Persian travellers of their adventures in medieval China, India, Africa and Byzantium. Put together, he saw these stories formed a crazy quilt picture of a lost world.
The Book of Roads & Kingdoms is the story of the medieval wanderers who travelled out to the edges of the known world during Islam's fabled Golden Age; an era when the caliphs of Baghdad presided over a dominion greater than the Roman Empire at its peak, stretching from North Africa to India. Imperial Baghdad, founded as the 'City of Peace', quickly became the biggest and richest metropolis in the world. Standing atop one of the city's four gates, its founder proclaimed: Here is the Tigris River, and nothing stands between it and China.
In a flourishing culture of science, literature and philosophy, the citizens of Baghdad were fascinated by the world and everything in it. Inspired by their Prophet's commandment to seek knowledge all over the world, these traders, diplomats, soldiers and scientists left behind the cosmopolitan pleasures of Baghdad to venture by camel, horse and boat into the unknown. Those who returned from these distant foreign lands wrote accounts of their adventures, both realistic and fantastical – tales of wonder and horror and delight.
Fidler expertly weaves together these beautiful and thrilling pictures of a dazzling lost world with the story of an empire's rise and utterly devastating fall.
About the Author
Writer-broadcaster Richard Fidler is the author of the bestselling books The Golden Maze and Ghost Empire, and co-author of the bestselling Saga Land with Kári Gíslason. Fidler presents 'Conversations', an in-depth, up-close-and-personal interview program. 'Conversations' is broadcast across Australia on ABC Radio and podcast all over the world to millions of listeners.
Hanging Ned Kelly
Elijah Upjohn, the hangmen and the underbelly of colonial Australia
When it came time to hang Ned Kelly, the job fell to crap-carrier-turned-quack-doctor-turned-drunken-chicken-thief Elijah Upjohn. Such is life indeed.
Hanging Ned Kelly looks at the life and times, crimes and demise of Australia's most famous antihero from a new perspective: that of the 'rogue and vagabond' who finally put the noose around his neck. Elijah Upjohn was the latest in a long line of flogging hangmen allowed to run amok because they'd do the dirty work that let officials keep their hands clean. Despite being duly appointed 'finishers of the law', Upjohn and his fellow boozing bunglers were so hated they were hunted by angry mobs. As one writer asked: 'Who shall hang the hangman?'
In Hanging Ned Kelly, Elijah Upjohn's tale becomes the rusty scalpel that slices open the underbelly of colonial Victoria. Written by Michael Adams, creator of the acclaimed podcast Forgotten Australia, this is an odyssey into an infernal underworld seething with serial killers, clueless cops, larrikin vigilantes, renegade reporters, racist settlers, furious fallen women and cunning waxworks showmen. Looming over them all: the depraved hangmen paid to execute convicted men and women – some of them innocent or unfairly condemned – in Melbourne before it was marvellous.
About the Author
Michael Adams has worked as a magazine journalist and editor, and a television scriptwriter, producer and presenter. He is the author of 14 books and is the creator and host of the podcast Forgotten Australia .
Exiles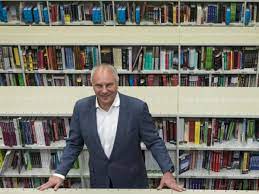 Booktopia Comments
For a limited time only, order a copy of Exiles and you'll receive a copy signed by Jane Harper. *Available while stocks last
Product Description
At a busy festival site on a warm spring night, a baby lies alone in her pram, her mother vanishing into the crowds.
A year on, Kim Gillespie's absence casts a long shadow as her friends and loved ones gather deep in the heart of South Australian wine country to welcome a new addition to the family.
Joining the celebrations is federal investigator Aaron Falk. But as he soaks up life in the lush valley, he begins to suspect this tight-knit group may be more fractured than it seems. Between Falk's closest friend, a missing mother, and a woman he's drawn to, dark questions linger as long-ago truths begin to emerge.
About the Author
Jane Harper is author of the international bestsellers The Dry, Force of Nature, The Lost Man and The Survivors. Her books are published in forty territories worldwide, and The Dry has been adapted into a major motion picture starring Eric Bana. Jane has won numerous top awards including the Australian Book Industry Awards Book of the Year, the Australian Indie Awards Book of the Year, the CWA Gold Dagger Award for Best Crime Novel, and the British Book Awards Crime and Thriller Book of the Year. Jane worked as a print journalist for thirteen years both in Australia and the UK, and now lives in Melbourne with her husband, two children, and two cats.
Time of My Life
Booktopia Comments
For a limited time only, order a copy of Time of My Life and you'll receive a copy signed by Myf Warhurst. *Available while stocks last
Product Description
From the much-loved Myf Warhurst comes a captivating and joyous memoir of wisdom, humour and heart that unleashes the music within us all
We all have a soundtrack to our lives, songs that as soon as we hear them we're transported to a moment in time. As the youngest child, and only girl, in a family of creative types, Myf Warhurst grew up with the music in her. Whether she was watching Daryl Braithwaite on TV on a Sunday night or listening to the crackle of the needle across vinyl as Agnetha and Anni-Frid took her from rural Victoria to Eurovision, music has always shaped Myf's life. Later her love of music (and the realisation that a professional pianist gig wasn't part of the plan) would shape her career.
But music isn't just about memories. It's a safe place for people who feel different. Songs and lyrics helped Myf make sense of the world and deal with heartbreak and uncertainty. Music steered her hopes and fashion choices, cemented friendships and bonded family. In Time of My Life she shares funny, fabulous and occasionally fraught tales about growing up in a small country town with an unhealthy obsession with Countdown, then working in Australian radio and her experiences on the much-loved music quiz show Spicks & Specks. She spills the backstage beans on work, fame, feminism, failure, love and success. Like a sommelier matches food with wine, Myf matches hits with memory, and in the process reminds us all that, as Louis Armstrong said, 'Music is life itself.'
A captivating and joyous memoir of wisdom, humour and heart that unleashes the music within us all.
About the Author
Myf Warhurst grew up in regional Victoria and studied music and fine arts at Melbourne University. After writing arts and music stories for The Age and street magazine Inpress, she became Managing Editor of Inpress in 1999. After her first radio gig as showbiz reporter on Merrick and Rosso's Triple J Drive Show, she moved to the Triple J Saturday night request show in 2000 and landed the afternoon shift in 2003. In 2008 she joined Peter Helliar on the Pete and Myf Triple M Melbourne Breakfast Show. Since then Myf has hosted the ABC Radio daily afternoon show, been a columnist for The Guardian and The Age and reports regularly for The Project on Network Ten.
Best known for her seven-year stint as a team captain on ABC TV's Spicks and Specks, Myf currently presents the Bang On podcast with Zan Rowe, discussing the biggest issues in art, music and pop culture. She also lends her voice to popular ABC Kids show Bluey, and recently presented on Play School: Story Time. She entered the South African jungle for the sixth series of I'm A Celebrity…Get Me Out of Here! Australia, where she was one of the most popular contestants. Since 2017, Myf has hosted the Eurovision Song Contest alongside Joel Creasey. And Spick & Specks lives on!
Treasure and Dirt
An unputdownable standalone thriller from the bestselling author of Scrublands.
In the desolate outback town of Finnigans Gap, police struggle to maintain law and order. Thieves pillage opal mines, religious fanatics recruit vulnerable young people and billionaires do as they please.
Then an opal miner is found crucified and left to rot down his mine. Nothing about the miner's death is straightforward, not even who found the body. Sydney homicide detective Ivan Lucic is sent to investigate, assisted by inexperienced young investigator Nell Buchanan.
But Finnigans Gap has already ended one police career and damaged others, and soon both officers face damning allegations and internal investigations. Have Ivan and Nell been set up and, if so, by whom?
As time runs out, their only chance at redemption is to find the killer. But the more secrets they uncover, the more harrowing the mystery becomes, as events from years ago take on a startling new significance.
For in Finnigans Gap, opals, bodies and secrets don't stay buried for ever.
A superb standalone thriller from the acclaimed and award-winning author of the international bestsellers Scrublands, Silver and Trust.
Staff Reviewby Karen Robinson
Treasure and Dirt is Chris Hammer's fourth book and first standalone novel, and once again he delivers a cracker of a read. Australian crime fiction is going through a renaissance and Hammer is one of the authors leading the charge.
While Treasure and Dirt is a standalone novel, the protagonist Ivan Lucic was introduced in Hammer's third book, Trust. Sent out to Finnigans Gap to investigate the crucifixion murder of a local miner, Ivan is quickly drawn into a battle between billionaires, a group of religious fanatics with questionable practices, and the miners desperately trying to make a living from the ever-dwindling resource of opals. Exploring the opal industry and the drive of billionaires to own the natural resources of Australia, as always, the novel is on point with contemporary events and issues, exploring both its complexity and the fact that crime usually comes down to three things: love, revenge or money.
Finnigans Gap itself is a fictional town loosely based on Lightning Ridge. Hammer's incredible grasp of descriptive writing makes it seem so real, you'll want to put the destination on your next road trip. His visceral descriptions make you want to reach for the Aeroguard, sunscreen or a cold bevvy of choice as if you are right there with the characters in the Australian outback, swatting away the flies. Hammer's experience as a journalist shines through in his ability to depict the inhabitants of the town with such depth and honesty that you want to pull up a chair at the local pub and have a chat with them.
With a cast of unique characters with bad blood and past secrets, the novel's central crisis was always destined to explode and Hammer is brilliant at exploring moral greyness in a black and white world. I can't say too much more without spoiling the joy of the ride, so whether you're already a fan or you're about to experience the greatness of Chris Hammer for the first time, Treasure and Dirt is worthy of a place on your bookshelf.
The Anglo-Saxons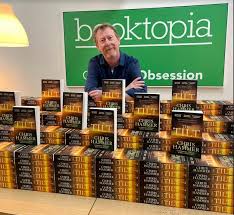 The Sunday Times bestseller
' A clever, lively … splendid new book'
DAN JONES, SUNDAY TIMES
'A big gold bar of delight'
SPECTATOR
Sixteen hundred years ago Britain left the Roman Empire and swiftly fell into ruin. Into this violent and unstable world came foreign invaders from across the sea, and established themselves as its new masters. In this sweeping and original history, renowned historian Marc Morris separates the truth from the legend and tells the extraordinary story of how the foundations of England were laid.
'Marc Morris is a genius of medieval narrative'
IAN MORTIMER, author of The Time Traveller's Guide to Medieval England
'Brilliant … Beautifully written, incredibly accessible and deeply researched'
JAMES O'BRIEN
'A much-needed book … A gripping story, beautifully told'
BERNARD CORNWELL, author of The Last Kingdom
'Highly informative and hugely enjoyable'
IAN HISLOP
'A vivid, sharply drawn story of seven centuries of profound political change'
THOMAS PENN, author of The Winter King
About the Author
Dr Marc Morris is a historian and broadcaster, specialising in the Middle Ages. He is the author of King John: Treachery, Tyranny and the Road to Magna Carta, The Norman Conquest and A Great and Terrible King.In 2003 Marc presented the highly acclaimed TV series Castle for Channel 4 and wrote its accompanying book. He has also contributed to other history programmes on radio and television.An expert on medieval monarchy and aristocracy, and a fellow of the Royal Historical Society, Marc has written numerous articles for History Today, BBC History Magazine and Heritage Today (now published together as an e-book, Kings and Castles).
Lost Women of Rabaul
Travel with a group of captured Australian nurses into the dark heart of the ascendant Japanese Empire at the start of the Pacific War.
Quiver with the nurses, abandoned by their own government, as they raise their hands in surrender to Japanese troops swathed in jungle camouflage.
Witness the intrigues of international diplomacy and the fog of war as loyalties are tested, confidences betrayed and acts of defiance made at great personal risk.
Retreat into the private world of the women's diaries, where poetry, memory and hope could still be kept alive.
Cower before the might of the US War Machine that incinerated Tokyo, with firestorms, hunger and the ever-present threat of Japanese "die-hards" still holding complete power over the women.
Thrill to the joy of liberation and the amazing priority given to the Lost Women, as they became the very first liberated prisoners to be airlifted to Australia … But why?
Australian nurses captured and at the mercy of the rampaging Japanese Empire; how did they survive and what were the international secrets that determined their fate?
About the Author
Rod Miller was a Sydney auctioneer clearing an estate when he stumbled across an old diary written in code and rhyme. He didn't throw it away, but launched into years of research to reveal the amazing story of a group of World War II Australian nurses and civilian women who were abandoned by their own government, captured and taken as bargaining chips into the heart of the Japanese Empire. Rod gathered evidence and surviving witnesses and wrote this enthralling book, Lost Women of Rabaul.
His first draft remarkably became the basis of the award-winning ABC-TV miniseries Sisters of War. Rod has now retired from his auctioneering business and lives with his wife and three crazy rescue dogs in Sydney. He continues to research the concealed stories of WWII. Author based in Putney, NSW.