Outerknown: known for high-quality sustainable clothing
Outerknown Clothing is a sustainable clothing brand founded by 11 time World Surf League Champion, Kelly Slater and acclaimed designer, John Moore. Outerknown is special due to the founders' intense focus on the sustainability and quality of the materials and processes used to manufacture their clothing.
We love that so much care and thought for the environment is at the core of this brand's ethos, and so I was excited when they sent over some items from their women's clothing range for review.
Core to their belief is that Outerknown, as a clothing company, has a responsibility to make clothing that respects the world around us. As consumers, we should know more about where the clothes we wear come from and what impact their manufacture had on the environment and the people who make them, which is what Outerknown sets out to do: provide transparency and instill integrity throughout their supply chain.
Outerknown clothing was launched in 2015, initially as a range of surf-inspired clothing for men, and expanded into women's lines in 2019. The majority of the cotton used in their clothing is organic; In 2019, over 95% of the cotton sourced was organic, and the company plans to reach 100% in 2020.
Outerknown clothing review – women's surf-inspired apparel
I mentioned above that the women's Outerknown clothing range was started in 2019. As a startup in 2015, the founders focused on growing the business initially with a men's line and were able to move into women's clothing four years later. It has been worth the wait.
The Outerknown clothing range for women has grown since 2019 and offers a range of tops, sweaters, pants, dresses and jumpsuits for women.
There's something about wearing clothes made from fair-trade, organic materials and via sustainable practices that makes you feel very good. You made good choices, buying these well-made clothes that were produced with attention to detail, transparency and care. Plus, having soft organic cotton next to your skin is, in itself, a way to make you feel good.
Outerknown review – fit and appearance
I haven't yet mentioned the look and fit of the Outerknown apparel I've been wearing – partly because I was so excited to learn about their ethical sourcing and manufacturing ethos that the actual look and fit takes a backseat in terms of initial importance.
As a curvy person and this being a surf-inspired brand, I was curious to see how the Outerknown women's clothing range would fit me, and I was pleasantly surprised. I have the S.E.A. Vintage Pocket Tee, Blanket Shirt and the striking La Paz Pullover, and they all fitted perfectly out of the box.
Outerknown Women's Blanket Shirt
I'd been holding out on getting a plaid shirt until the right one came along – it's surprisingly hard to find a comfortable plaid shirt for women that fits correctly and will stand the test of time.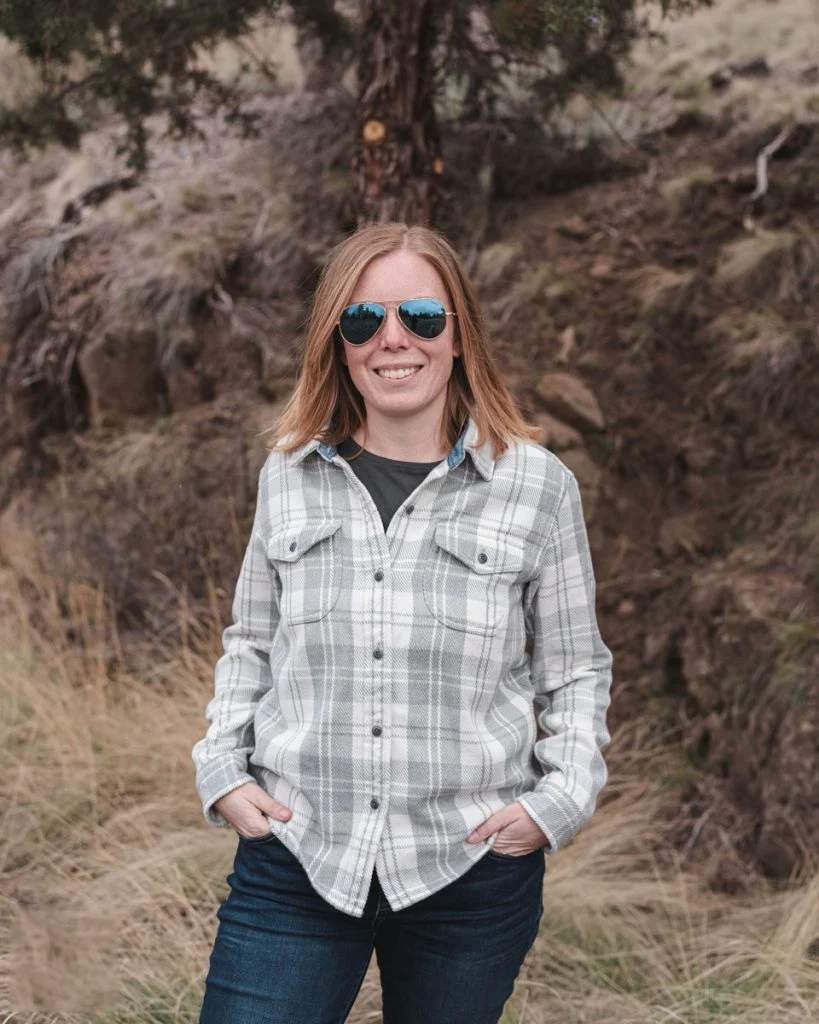 Outerknown's blanket shirt is one of their best-selling women's clothing items and is made from 100% organic cotton. The fabric is fairly heavyweight, which means it holds its shape, doesn't cling or wrinkle. Also, importantly, it doesn't gape around the chest area, which I've had on other shirts where the buttons do up. This means it's perfect for wearing alone or layering over a short or long-sleeved tee.
Outerknown S.E.A. Vintage Pocket Tee
In our photos, I'm wearing the S.E.A. Vintage Pocket Tee underneath the Blanket Shirt (it was f-f-freezing cold when we took these photos!). Like the Blanket Shirt, this vintage-inspired cropped tee is made from 100% organic cotton and is designed with a washed-out look.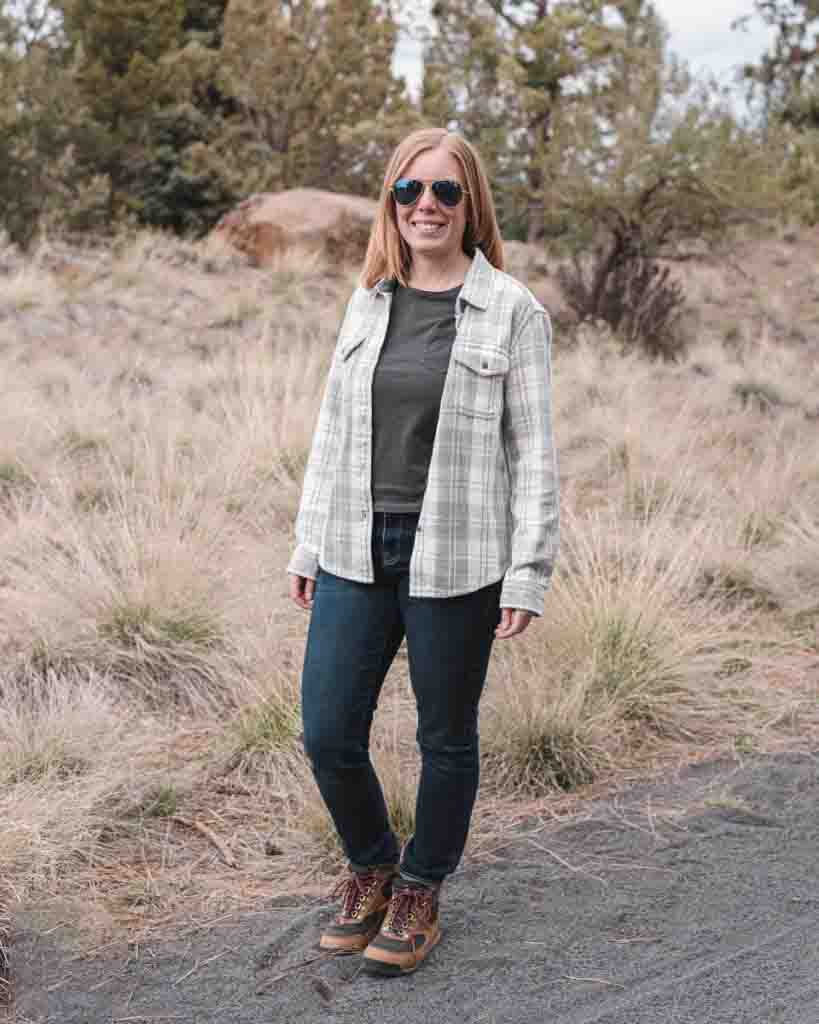 Wondering what Outerknown's S.E.A. abbreviation stands for?
Yeah, I was too. S.E.A. stands for Social and Environmental Accountability, which means Outerknown's clothing with S.E.A. in the title surpasses the strictest standards for sustainable and ethical manufacturing. Head over to their website to read more about Outerknown's commitment to sustainability and ethical production.
Outerknown La Paz Pullover
This striking Outerknown pullover was the biggest surprise because while it looked great on the website however as I ordered it online I wasn't entirely sure how it would look and 'hang' on me, as it's a baggy item – these tend to either be super-flattering or look like I'm wearing an old sack!
Fortunately, Outerknown's La Paz pullover was very much the former, and I'm in love with it! Like the Blanket Shirt, this pullover is one of their bestselling women's items, and I can see why.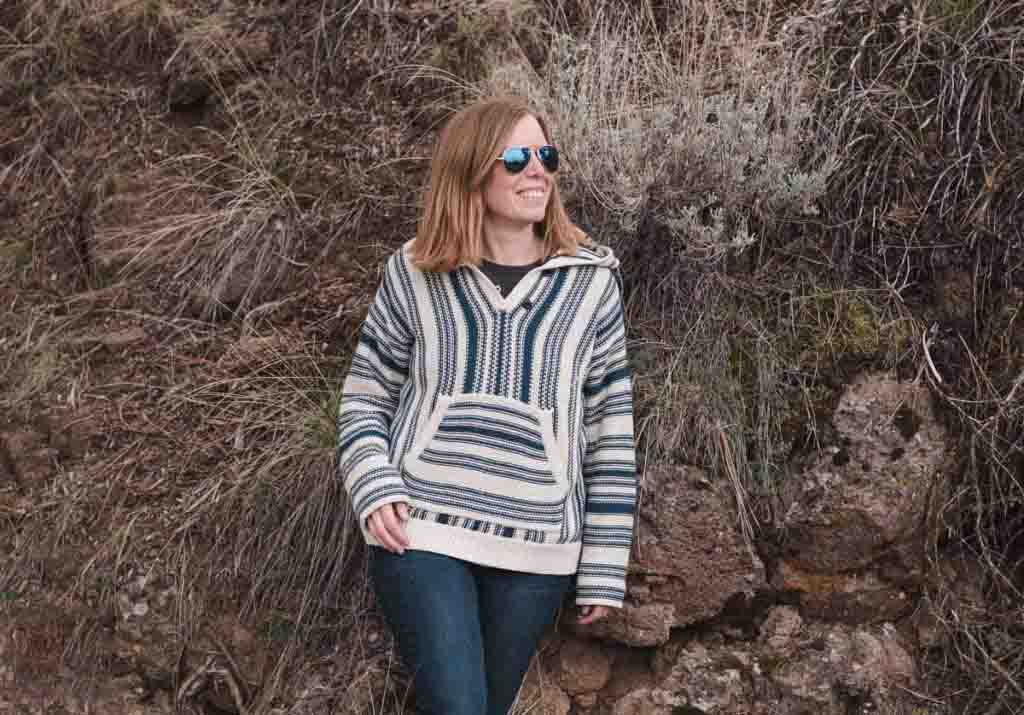 The pullover has a good weight to it (made from 38% linen and 62% organic Pima cotton) has a spacious kangaroo pocket and large hood, and looks great with both pants/jeans and shorts. I have to be careful when I wear it because the knitting is prone to getting pulls – if caught on sharp wood/metal, or a cat/dog's nails. This top is one I take off when I want to pet a cat or play with the dog ?
Outerknown women's clothing review – sizing
All three tops fitted true to size, I ordered a size Small in the S.E.A. Vintage Tee and La Paz Pullover, using the size guide on the Outerknown product pages. The Blanket Shirt comes in two sizes, XS/S and M/L.
The size guide was helpful here as I decided to go for the XS/S despite doubting that anything with an 'XS' in the size would fit me correctly and also me liking my shirts on the larger size. The intention for this shirt to be on the loose side has been taken into account in the sizing, as the XS/S fit is spot-on and M/L would have been too large.
Outerknown Review – Gallery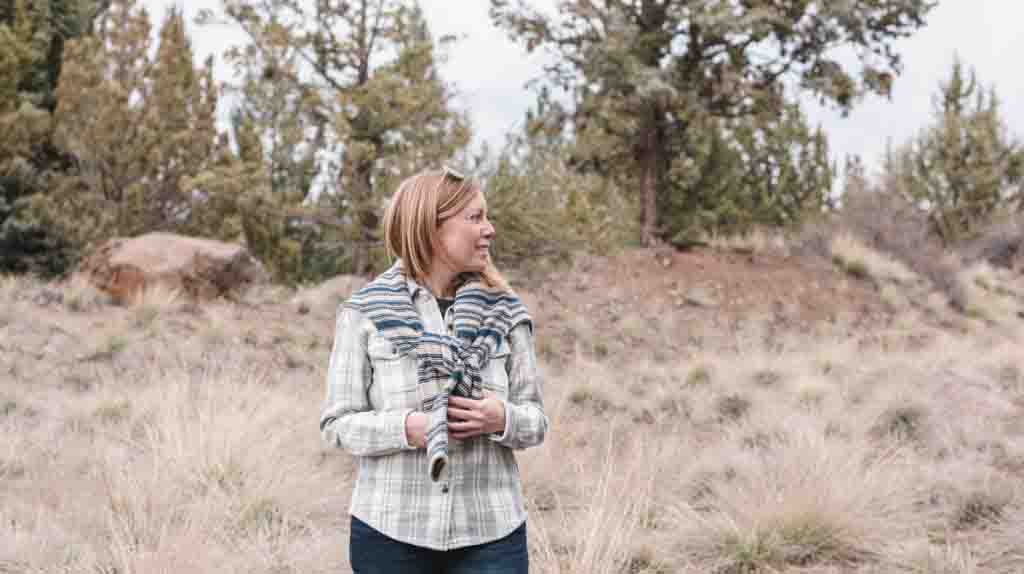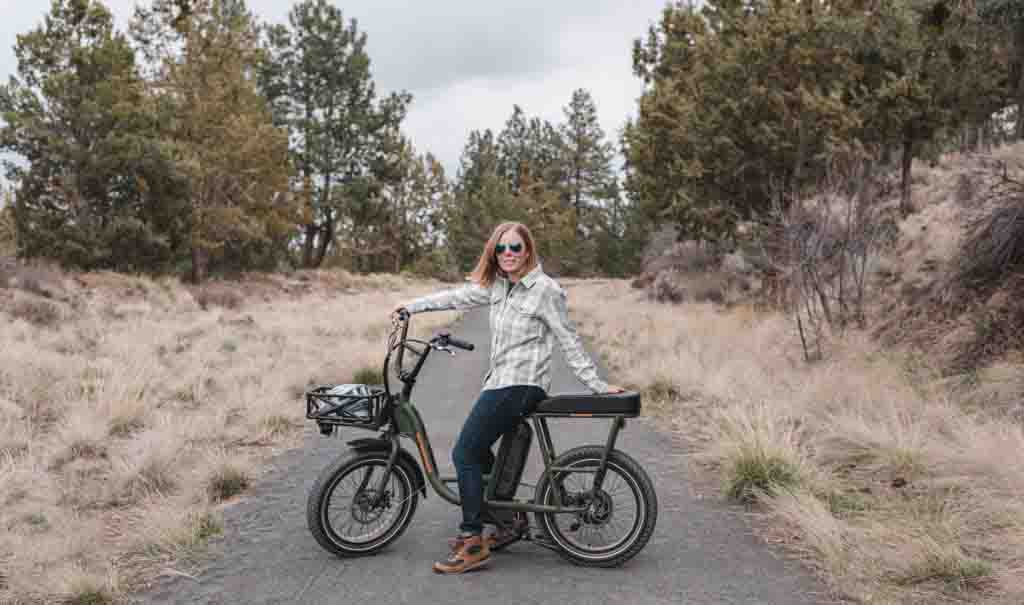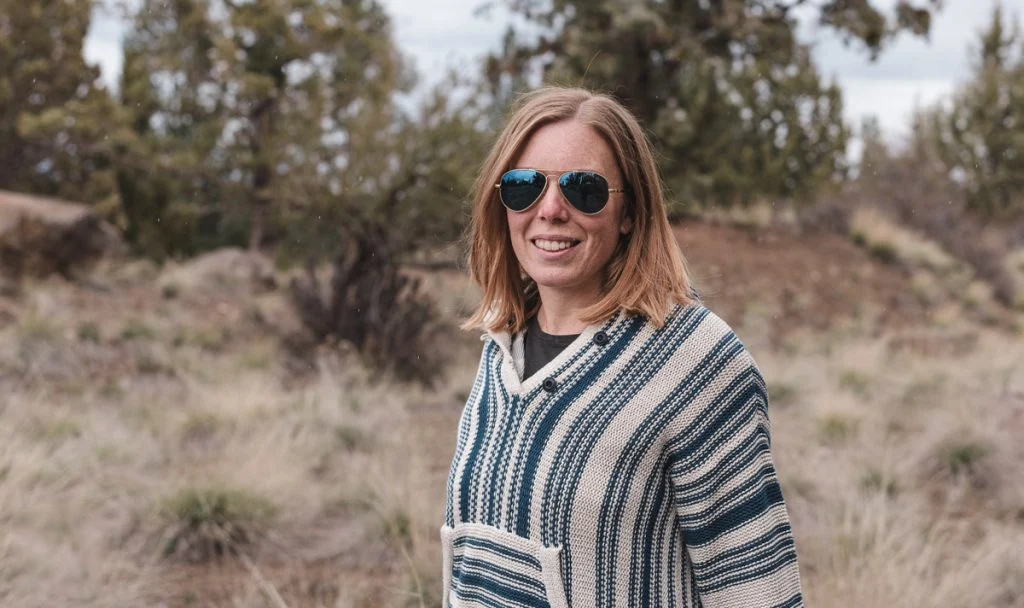 Outerknown clothing – In Summary
I'm excited to have found the Outerknown clothing brand and be able to wear and enjoy some of their women's apparel.
I am yet to try their bottoms but can't wait to put on a pair of Outerknown's famous S.E.A. Jeans, which are made with organic cotton, and fair trade certified sewn at the cleanest denim facility in the world (A business called Saitex, in Vietnam). The jeans also come with a lifetime guarantee, which is handy if you tend to wear your jeans out like Alastair and I do.
If you're also seeking to buy from sustainability-focused companies then I definitely suggest you check out Outerknown clothing, and have a browse of their website for the latest men's and women's clothing from this high-end and ethically-minded brand.