Benjamin Moore is one of the most popular paint brands. But it's also one of the most expensive.
Is it worth the high price? Is it any good?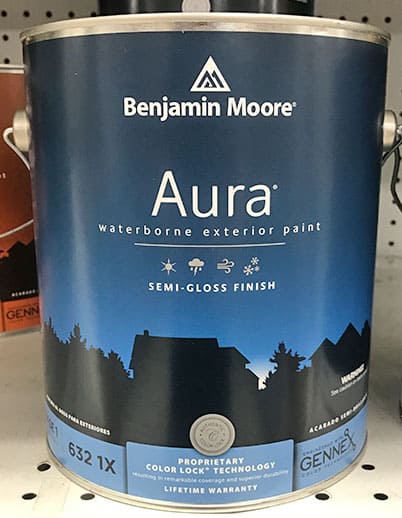 In this review, I break down the pros and cons of Benjamin Moore paint. You'll learn all the key aspects of the brand, including:
The differences between its paint lines
How the coverage, availability, safety, and pricing compare to other brands
The downsides and why they matter
And much more
I also reached out to several professional painters and independent retailers to get their opinion about Benjamin Moore.
So, if you're getting ready for a paint project and want to know if Benjamin Moore is any good, keep reading.
Paint Lines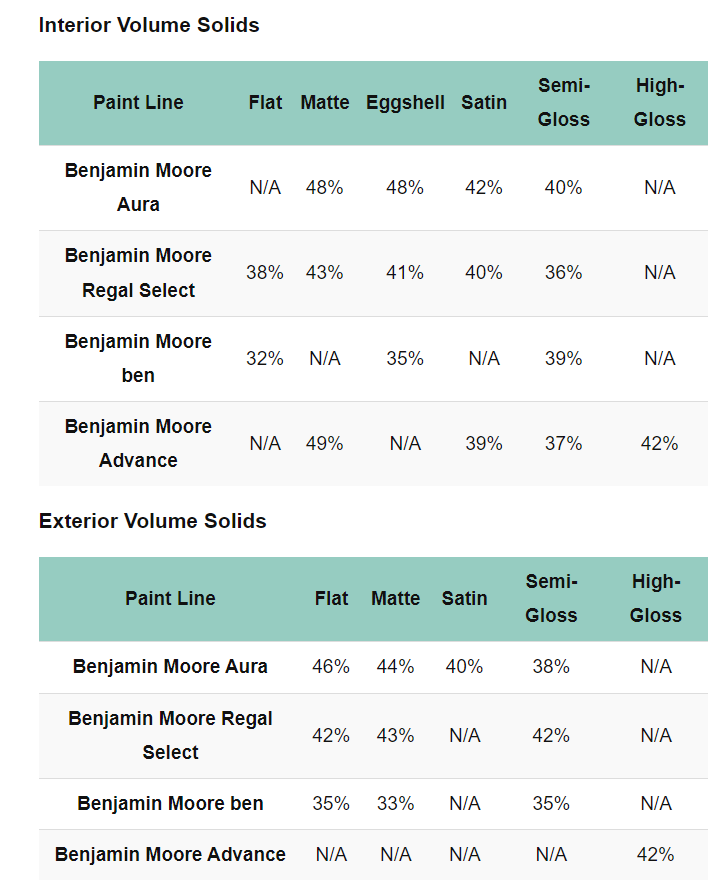 Benjamin Moore offers several unique paint lines, so it's important to know the differences before buying.
Here's a brief overview of the brand's most popular offerings.
Interior Paints
Aura: This 100% acrylic paint is Benjamin Moore's best quality and most expensive line. It's scuff and mildew resistant, provides better coverage with fewer coats than other paints, and is available in thousands of colors.
Regal Select: As an inclusive paint-plus-primer option, Regal Select is easy to apply and dries with a smooth, rich finish. This paint is also splatter-resistant, making the application process cleaner and more pleasant. It's one step down from Aura in terms of coverage and price, but its performance is still excellent, and it's a more practical option for most homeowners. The New York Times named Benjamin Moore Regal Select the best interior paint. Check out my comparison of Benjamin Moore Regal Select vs. Aura to learn more.
ben: If you're looking for easy-to-use paint with a flat finish, ben by Benjamin Moore is a good choice. Ben is more affordable than Aura and Regal Select, but it may require applying more coats to achieve the same level of coverage. Learn more in this guide to Benjamin Moore ben vs. Regal Select.
Advance: This is a water-based paint formulated for durability and coverage. It's easy to clean and hardens to a furniture-quality finish as it dries.
Exterior Paints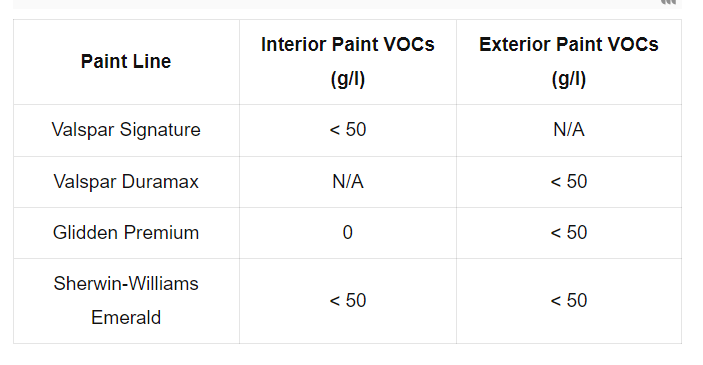 Aura: Like the interior version, Aura exterior paint is a premium option that provides strong hide and coverage, mold and mildew protection, durability against all weather conditions, and superior adhesion.
Regal Select: With a formula that provides strong adhesion on any surface, this durable paint can handle extreme cold and harsh conditions for many years. It's mold-resistant and comes with the same limited lifetime warranty as the Aura exterior paint line.
ben: This is an affordable paint that dries quickly and is rain-resistant just 90-120 minutes after application. You can apply it at temperatures as low as 35°F, which extends your painting season and saves time.
Specialty Paints
Aura Bath & Spa (interior): This paint is designed for high-humidity conditions and is mildew resistant, provides high coverage, and is washable.
Aura Grand Entrance (exterior): Ideal for doors and windows, this paint dries to a rich, highly pigmented finish and is highly fade resistant.
Regal Select High Build (exterior): This paint is perfect if you need a low-luster, peel- and blister-resistant paint that can stand up to the elements and adapt to multiple surfaces.
Coronado Rust Scat (exterior): This metal-specific paint boasts superior adhesion properties and can handle both wet and dry conditions.
Volume Solids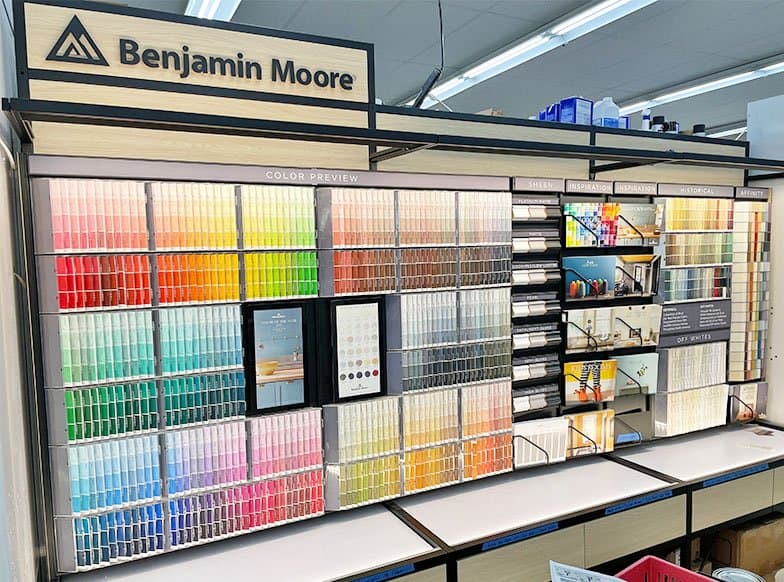 You'll probably see the term "volume solids" mentioned numerous times while reading paint descriptions. In essence, a paint's volume solids are the solid components left behind after it dries.
All paint is made up of the same basic elements: binder, pigment, solvents, and additives. The solvents evaporate, while others are left on the wall.
Paints with higher volume solids tend to be thicker, richer in color, and more durable than those with lower volume solids. They also tend to be more expensive.
Benjamin Moore paints have higher volume solids than most brands, but the amount varies by line. The more expensive and higher-tier Benjamin Moore paints (like Aura and Regal Select) feature higher volume solids than lower-tier lines (like ben).
As you can see below, Benjamin Moore ben (left) is noticeably thinner than Aura (right).
The charts below detail the volume solids of different Benjamin Moore paint lines. I've included a few other paint brands' specs for comparison.
VOCs
When paint dries, certain ingredients react with the air and evaporate. Some of these components are solvents known as volatile organic compounds or VOCs.
You can find these compounds in other household products, such as cleaners or adhesives, and when you breathe them in, you might experience an unpleasant reaction. VOCs can cause headaches, dizziness, and other serious illnesses (after long-term exposure).
VOCs can remain present in the air for months after you paint, and there's evidence that they can increase the risk of developing asthma or allergies.
For these reasons, low or zero-VOC paints are a better option. These options are not only better for your health, but they emit significantly less odor.
Most Benjamin Moore paints are either low or zero-VOC, but they aren't the only brand that offers these options.
As long as a paint's VOC levels are below 50 grams per liter and you've established proper ventilation, you face a minimal risk of harmful exposure.
The charts below show the VOC content of popular Benjamin Moore paints and some of the low VOC options offered by other brands.
Where It Is Sold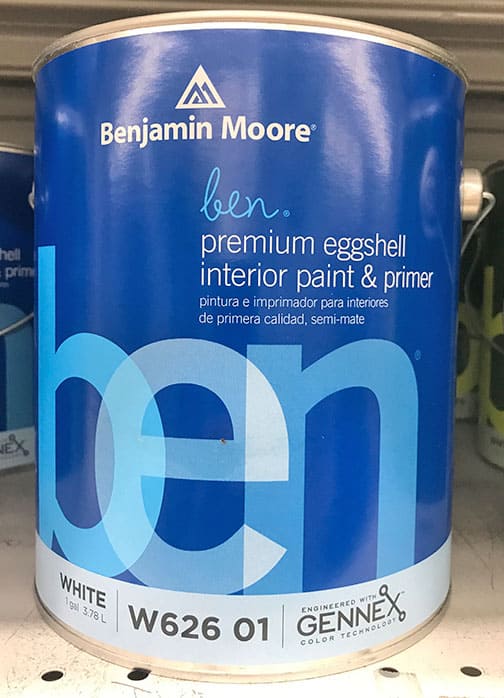 Benjamin Moore is a high-end brand that you can't find at The Home Depot or Lowe's.
The company only sells its paints through proprietary Benjamin Moore stores, ACE Hardware stores (or ACEHardware.com), and certain independently-owned paint & hardware stores.
Part of this brand's draw is the knowledgeable retailers who sell Benjamin Moore paints. Unlike the hit-or-miss service you get from most large home improvement stores, Benjamin Moore retailers provide personalized expert advice and help you choose the right paint for the job.
Over 7,500 licensed retailers across the United States sell Benjamin Moore, and you can use this store locator to find one near you.
Colors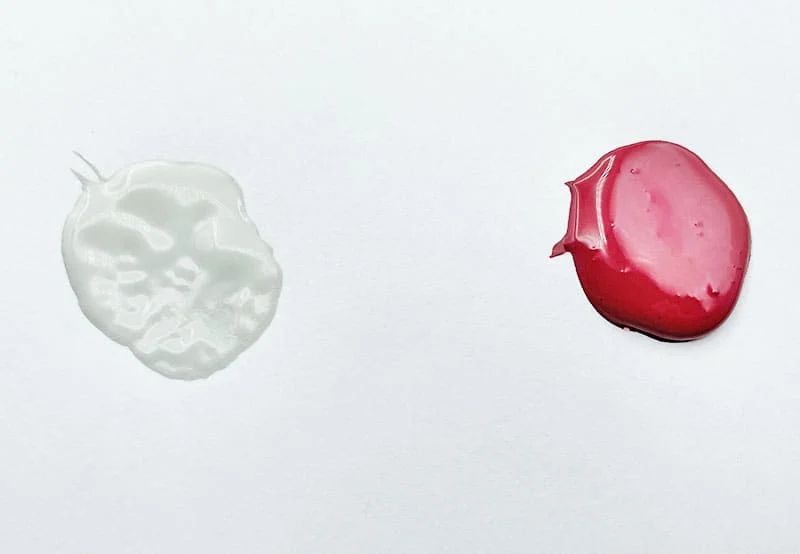 One of the major selling points for Benjamin Moore is the wide variety of paint color options. There are over 3,500 color options, and you can find colors in just about any shade or hue by looking through the catalog.
Some of their most popular colors are:
Dinner Party (AF-300) – a deep wine-red color with purplish undertones
Peach Parfait (2175-70) – a warm pastel-neutral color with a slight pink hue
Guilford Green (HC-116) – a soft mossy color with hints of beige
Lily Lavender (2071-60) – a pale lilac color that appears almost opalescent when matched with white or silver highlights.
Benjamin Moore uses a proprietary colorant called Gennex Color Technology. Most colorants include chemicals so that they can mix with several different paints. But those chemicals weaken the paint.
Gennex Color Technology colorant is formulated specifically for Benjamin Moore, and it doesn't contain those chemicals that weaken the paint. As a result, you get vibrant colors that don't fade over time.
Also, it's nearly impossible to color match Benjamin Moore paints with any other paint brand because of their unique colorants. Even if the colors look similar online or in samples, you're likely to find noticeable differences once they dry.
Benjamin Moore provides several helpful tools that make it easier to visualize specific paint colors as they'll appear in your home.
The Benjamin Moore website has a search function that allows you to look up paints by color family, collection, or bestseller status, making it easier to narrow down the options and focus on the categories that interest you.
The Benjamin Moore Color A Room tool is available as either a desktop application or a mobile app. It allows you to view your paint within a specific type of room or under certain lighting before trying it out in your own space.
Finally, the Personal Color Viewer allows you to upload a photograph and add a color of your choice. You can use the application's painting tools to choose specific parts of the photo to color, giving you a good idea of how the paint will look under different contexts.
Price
Given their reputation as a premium paint brand, it's no surprise that Benjamin Moore is more expensive than other brands.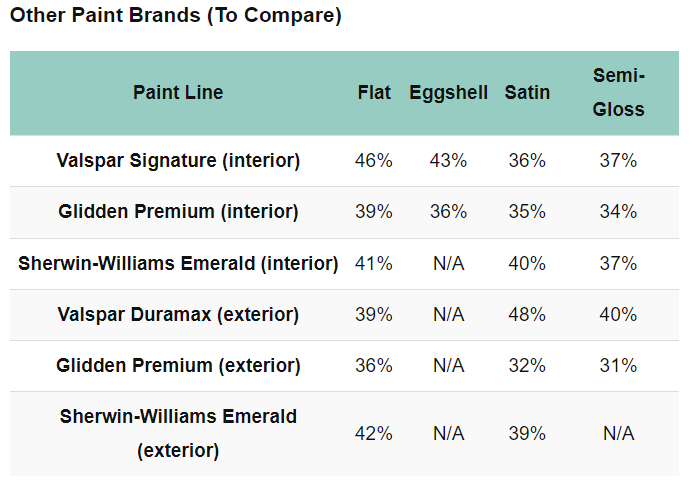 Exact pricing varies by paint line, with Aura being the most expensive option and ben being the most affordable.
Ben is priced at around $47 per gallon. Compared to other lower-priced paints such as Behr Premium Plus (avg. $30 per gallon), Valspar Ultra (avg. $33 per gallon), and Sherwin-Williams Captivate (avg. $40 per gallon), ben by Benjamin Moore still carries a hefty price tag.
Aura paint is quite an investment at $90 per gallon. Other premium paint collections such as Behr Dynasty (avg. $55 per gallon), Valspar Reserve (avg. $48 per gallon), and Sherwin-Williams Emerald (avg. $81 per gallon) are all cheaper than Aura despite being their respective brands' most premium paint lines.
The pricing chart below shows a cost comparison between Benjamin Moore's paint lines and the ones offered by other popular brands:
Prices vary by finish and retailer and are subject to change.
Downsides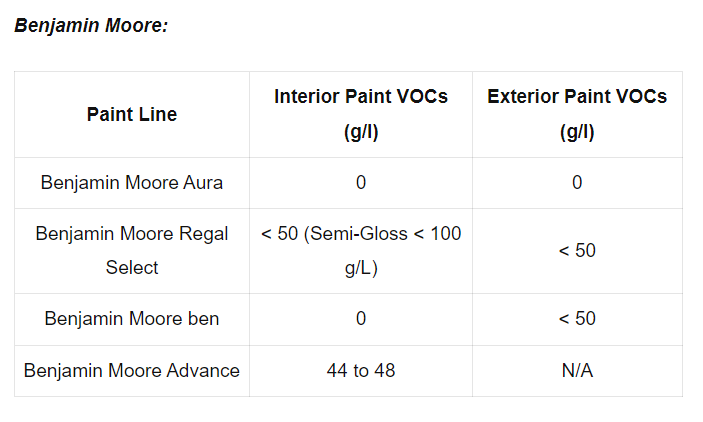 Benjamin Moore paints have relatively few downsides. However, there are a handful of cons worth mentioning.
The most obvious one is price. There's no denying it, Benjamin Moore is expensive, and it rarely goes on sale. The price alone is enough to deter many buyers, and the company certainly won't make any budget-friendly paint lists.
Another issue with Benjamin Moore is its limited availability. Although it's available at thousands of stores, it's not sold at major home improvement stores like Lowe's or The Home Depot.
It's most accessible in the northeast region of the United States, but you may need to drive a distance to find an authorized retailer if you live in other areas.
Compounding this problem is Benjamin Moore's lack of color-matching potential. If you run out of paint and there isn't a nearby retailer, you can't substitute another paint for it. You'll have to go out and buy more from Benjamin Moore.
Benjamin Moore is also thicker than other paints, which improves its coverage and color, but makes it a little more challenging to work with. The paint's viscosity makes it difficult to wash out of brushes and rollers.
What Professional Painters Say About Benjamin Moore
I reached out to several professional painters to get their opinion on Benjamin Moore.
When I spoke to each painter, I asked a simple question:
What makes Benjamin Moore paint special?
Here's what they had to say.
New Haven Painters, a Connecticut-based painting company, said, "Benjamin Moore is a quality brand that we trust. The "best" bathroom paint is Aura Bath and Spa by Benjamin Moore. Aura will prevent mildew and cracking from extreme moisture."
Infinity Painting, another painting business in Connecticut, told me, "Benjamin Moore has excellent products. It offers excellent durability, clean-ability, and fade resistance."
J&R Painting, a New Hampshire painting company, said, "We strictly use Sherwin-Williams products for our jobs, but Benjamin Moore is a close second in my opinion. We choose Sherwin-Williams because they have multiple locations throughout New Hampshire and Massachusetts as opposed to Benjamin Moore, which only has a few dealers here and there. I would trust both brands in clients' homes."
Granite State Painters, a New Hampshire painting company, said, "Ben Moore is more durable than most brands. It won't chip or flake after applying. We recommend Benjamin Moore Advance for trim, Regal Select for walls, SuperHide for ceilings, and Aura for bathrooms since it's a moisture-resistant paint."
Local San Diego Painting, a California-based company, said, "Benjamin Moore is also a solid coating, but not as good with color uniformity compared to Sherwin-Williams. A color from one can sometimes does not match the next. Sherwin Williams, on the other hand, is very good in that respect."
I also spoke with paint experts at Benjamin Moore dealers to get their opinion.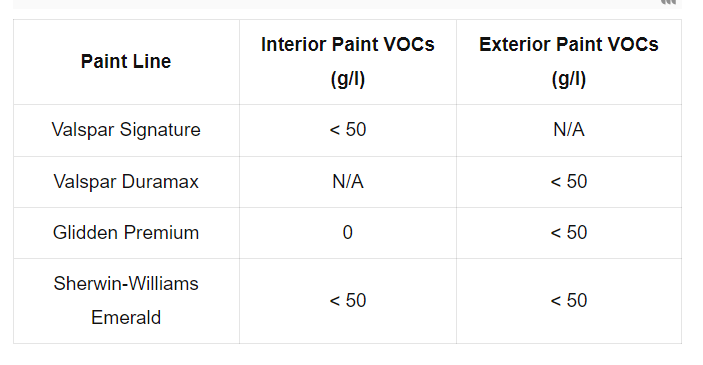 The expert at National Lumber Home Finishes, an authorized Benjamin Moore dealer in Massachusetts, said, "Benjamin Moore's mission is to create the best-performing paint. They put the very best ingredients in the can and price it accordingly. The paint has a tight film, so there is no place for dirt or stains to stick."
He went on to say, "They are not targeting homeowners looking for a bargain. If you want the best price, go to The Home Depot or Lowe's. But if you want the best coverage, durability, and scrubbability, go with Benjamin Moore."
The paint expert at ACE Hardware in Canton, Massachusetts, admitted, "Not every paint job requires a $90 paint like Benjamin Moore Aura. If you rent or plan to move soon, it might not be worth the higher price. But if you want the best quality paint, not many options beat Benjamin Moore."
My main takeaway from speaking to professional painters and authorized dealers is that Benjamin Moore is second to none in terms of performance, durability, and overall quality. The only major downside is the high cost.
What Other Experts Say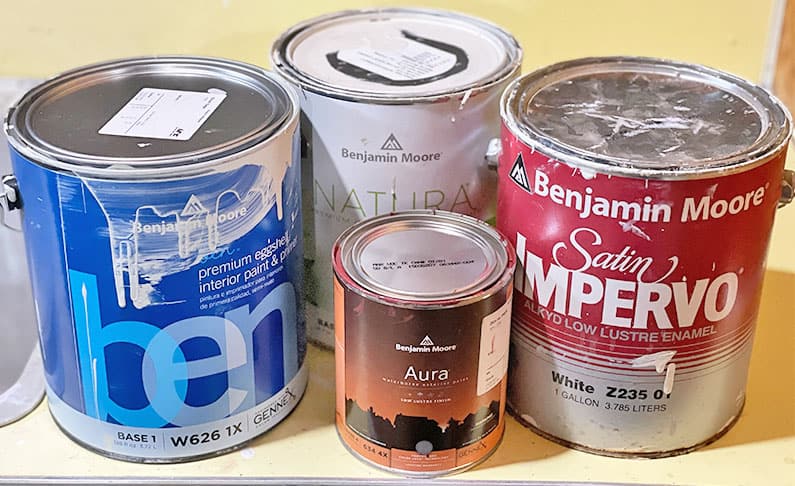 The New York Times' Wirecutter publication named Benjamin Moore's Regal Select "The Best Interior Paint" out of the 55 options they tested. They asked professional painters about their favorite brands, and over half named this paint line.
The painters interviewed by Wirecutter said that Regal Select paint delivers on its promises and justifies its higher price tag by being more durable and more efficient than lower-priced competitors thanks to its excellent coverage.
Popular review site BobVila.com also awarded Regal Select the top spot in its list of the best interior paints. The reviewers praised the paint for its zero-VOC content, washability, quick drying time, and smooth finish. According to the reviewers, using this paint means that you're "all but guaranteed an effortless and beautiful paint job."
Home magazine Country Living named Benjamin Moore's budget paint, ben, as the "best value" in a lineup of the top ten paint brands for interior jobs. The reviewers noted that this option isn't as smooth as others, but it still provides good quality for a reasonable price.
In Good Housekeeping's review of Benjamin Moore Regal Select, the reviewers gave the paint five out of five stars. Reviewers found this low-VOC option to be durable and stain-resistant while providing superior coverage, excellent fade resistance, and a beautiful finish.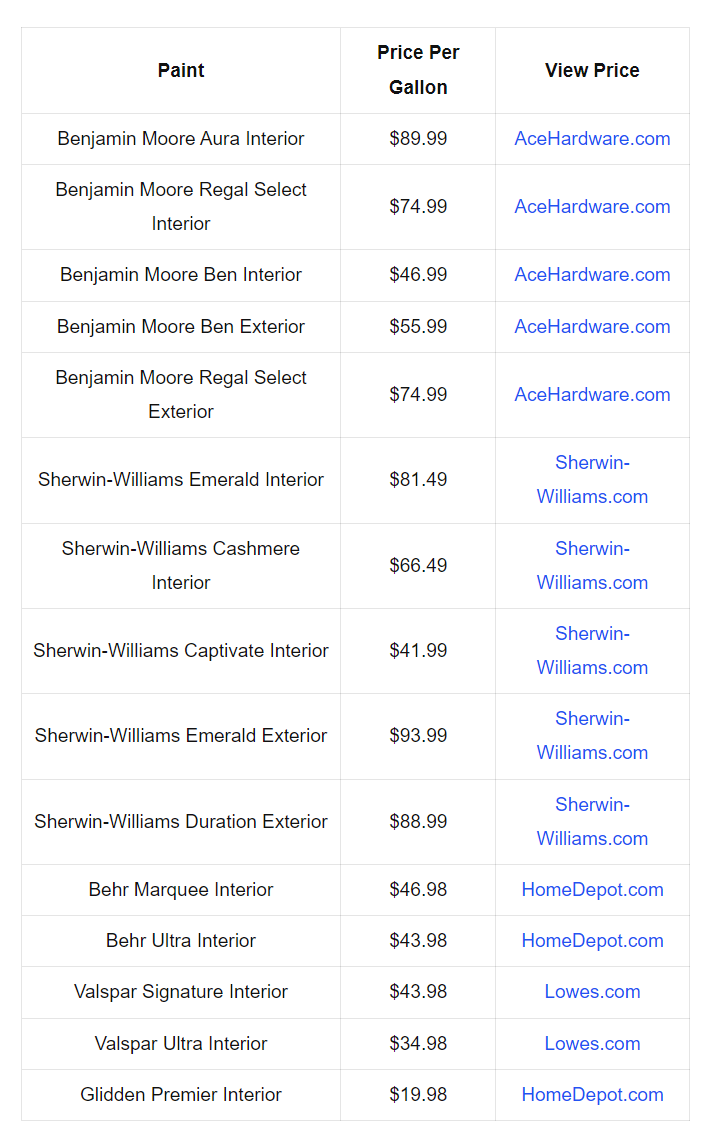 Good Housekeeping also reviewed Benjamin Moore's Aura paint line, giving it another 5/5 rating. GH reviewers found that the paint "goes on smooth" and provides better coverage with just one coat than most paints can achieve with two. They were also pleased with how easy this paint was to wash and noted its stain resistance as a major plus.
Bottom Line: Is Benjamin Moore Worth It?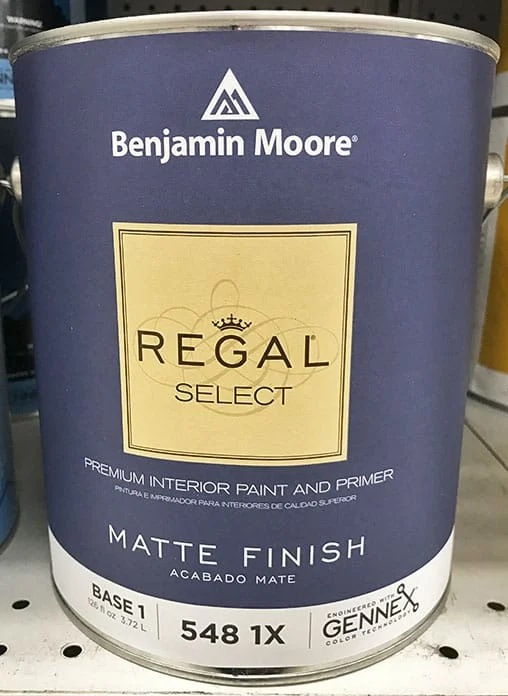 Now you know what makes Benjamin Moore paint so special.
But is it the right brand for you?
Before I give you my recommendation, let's quickly review the main takeaways.
Benjamin Moore offers several paint lines ranging from high-quality interior and exterior paints to specialty products designed for specific projects.
Compared to other paint brands, Benjamin Moore paints feature high volume solids, making them thicker, richer, and longer-lasting than many other options.
Benjamin Moore offers both low and zero-VOC paints.
You can only buy Benjamin Moore paint at brand stores, ACE Hardware stores, or specific independent paint & hardware retailers that have been authorized by the company.
Benjamin Moore's color catalog is extensive, and the brand offers a range of useful tools to help you visualize, organize, and choose from hundreds of paint colors.
Expect to pay more for Benjamin Moore paints than you would for other competing brands.
The main downsides are the high cost, inability to color match, and thickness, making it more difficult to wash out of brushes (despite providing better coverage).
Bottom line — you can't beat Benjamin Moore's quality, and there's a reason it's one of the most recommended brands among painters, industry experts, and homeowners.
The New York Times named Benjamin Moore Regal Select the best interior paint, and almost all the professional painters I spoke to highly recommended the brand.
I've used it personally for several years and never had any issues. It goes on smooth, holds up against scuffs, and you can scrub it aggressively without it fading.
It's more expensive than brands like Behr, Valspar, and Glidden (it costs twice as much in many cases). But you get what you pay for with paint. When you consider that it will outlast cheaper paint by years, it's a worthy investment.