Pre-detergent King Carthur Control Snow Foam

Product reviews
Been running ValetPro Advanced Neutral Snow foam for quite a while now, wanted to give KC Control SF another chance and must admit it cleans a bit better than ValetPro Adv. It doesn't foam as well but still stays on the paint long enough and cleans. It doesn't smell bad but I would have liked it to have smelled better, preferably as good as ValetPro Adv.
Polishing kit Tokya OP5 All In One DELUXE – Oscillating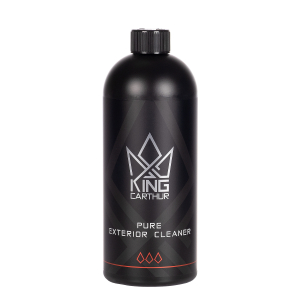 Product reviews
Worked better than expected. Haven't tried everything yet but what I've tried works well.
Very nice, barely had time to use the stuff. But has lived up to expectations in testing.
Very good. Have a boat that. was very sun-bleached etc. but now has a new glow. Fantastic result.
Complete high quality polishing kit. Suitable for professional use as well as for the home user. Autodude highly recommend!
VERY VALUE PACKAGE – WE HIGHLY RECOMMEND!
A complete package with Tokya OP5 – A high quality oscillating polishing machine and suitable accessories included. Everything you need (and a little more!) to give tired paint a real facelift. Used to remove scratches and also mechanical application of wax. Suitable for both beginners and professionals. An easy machine to use with very good polishing properties. We highly recommend! Please read how to polish here in our car care guide. Gives a quick and hologram-free polishing result!
"I've never polished before, how do I do it and what should I choose?"
Dare to try. Make it easy, it's not that hard. We recommend starting with an oscillating polishing machine such as Tokyo OP5. With this it is difficult to make mistakes and no matter how you polish, it will be better than before. This complete polishing package includes everything needed to get started. Start with the mildest combination of polishing wheel and agent. If it doesn't bite the scratches, switch up to a coarser pulley, if it's not enough, try a coarser polish. You learn the basics very quickly!
It is also possible to just buy the polishing machine separately here !
Polishing package Tokya OP5 All In One Deluxe includes
Polisher Tokya OP5 – Oscillating, reliable and easy to use. Affordable!
Polishing agent King Carthur Reshine Cut (1/3) / 250 ml – Rubbing. A slightly coarser polish, which also
works well for the slightly harder paint surfaces.
Polishing agent King Carthur Reshine Polish (2/3) / 250 ml – Rubbing/ polishing. A medium coarse polish, which is also suitable for "one step" treatment.
Polishing agent King Carthur Reshine Finish (3/3) / 250 ml – A very fine finishing agent. A polish for
removing holograms and polish rosettes. Simple to use.
Foam pad PadBoys DA Yellow / Heavy Cutting – Coarse sanding, 140 mm (5.5″)
Foam disc PadBoys DA Orange / Soft Cutting – Light sanding, 140 mm (5.5″)
Foam pad PadBoys DA Green / Heavy Polish – Coarse polishing, 140 mm (5.5″)
Foam pad PadBoys DA Blue / Soft Polish – Light polishing, 140 mm (5.5″)
Foam Pad PadBoys DA Black / Finishing – Finishing and Waxing, 140mm (5.5″)
Deep cleaning Padboys IPA, 500 ml – Really effective cleaning agent. To get a completely clean surface before and after polishing.
Allround Cleaning Cloths King Carthur Royal Flush – Microfibre cloths to wipe off leftover polish.
Polisher Tokya OP5is an affordable oscillating polishing machine. It has an ergonomic design, is relatively lightweight and is therefore also easy to handle. The Tokya OP5 has a 15mm eccentric movement, meaning it has a sideways 'throw'. The throw makes it easier to get good results faster on large surfaces. The machine is well suited for beginners as it has a wide choice of speed, which makes it possible to start polishing gently and thus also safely. The surface temperature is kept low and it is easy to get started. Very comfortable and easy operation of the machine. It has a soft start function, which starts the machine in a smooth and controlled way at the selected speed. It keeps a constant speed, even if the load increases when you press the plate against the paint. It actively monitors and compensates for the effect – a type of "
Padboy's foam pads are designed in a unique way that differs from most other polishing pads in the store. They have rounded edges, which means that you avoid sharp contact with the parts you don't want to be treated and you get a smoother transition in the places where the surface is not completely flat. The hex-shaped pattern reduces unnecessary extra smudges, catches excess polish and takes care of the polish dust that is created.
King Carthur Reshine Cut (1/3) is a silicone-free, effective slightly coarser polishing agent / rubbing, which works well even for the slightly harder paint surfaces. Used together with wool, foam pad or microfiber. When used with a polishing machine, you get an effective sanding of the paint up to P1500 sanding grade.
King Carthur Reshine Polish (2/3) is a silicone-free, medium-coarse polishing agent / rubbing, which is suitable for all types of polishing machines. Good choice for "one-step" treatment. This product is well suited to all types of lacquered surfaces, from extremely soft to hard. When used with a polishing machine, you get an efficient but gentle sanding of the paint up to P2500 sanding grade.
Polishing agent King Carthur Reshine Finish (3/3) is a silicone-free, very fine polishing agent / finishing agent. A polishing agent for removing holograms, polishing roses and other polishing defects. Leaves behind a very nice and shiny surface. The product is intended for final polishing. Used as the last step in polishing.
Padboys IPA (isopropanol 50%) is a very effective alcohol-based cleaning agent. IPA can remove stubborn grease and dirt stuck to the paintwork. This is an excellent tool for getting a completely clean surface. Used for a final cleaning before e.g. waxing and polishing to ensure that no residual products or agents remain on the surface.
King Carthur Royal Flush is a pack of microfiber cloths (5pcs), perfect size for all-round use 40 x 40 cm. Suitable for cleaning and drying both interior and exterior.
Characteristics
Product: Polisher Tokya OP5
Use: Mechanically polish away scratches
Cable length: 5 m
Power: 500 W (max. 750 W with compensating power)
Speed: 2000 – 4500 rpm
Max size roundel: 150 mm
Weight: 2.6 kg
Warranty: Private person 24 months and company 12 months
KING CARTHUR'S POLISHING SYSTEM:
Wax-dissolving pre-wash agent King Carthur Total Snow Foam
Very powerful alkaline degreaser for pre-wash and other cleaning. Effective solution-based properties.
Product reviews
Seems to work well, good foam and smells good. Not the same cleaning power as bilt hambers auto foam, though.
The winter crap disappeared without me having to rub.
Dissatisfied product is not so good
Seems to foam well, but a one-liter cork was a bit too small
Frequently asked questions about the product
27.10.2017 K , Hello, 2 questions: Is it ok for the varnish to use this product and then not shampoo. So that you lather on, rinse off, okay? Does this agent affect ceramic paint protection? Sincerely
Hey Kia! Yes absolutely. That is the idea of ​​the product. "King Carthur Total Snow Foam" is a pre-wash agent that is used before hand washing to remove the loose and coarsest dirt. If the car is not very dirty, it is often enough to do a maintenance wash with just the pre-washer without hand washing. If you have a ceramic protection on the car, I recommend "King Carthur Control Snow Foam" instead, it is more gentle on the paint protection.
Autodude's Quick Start Manual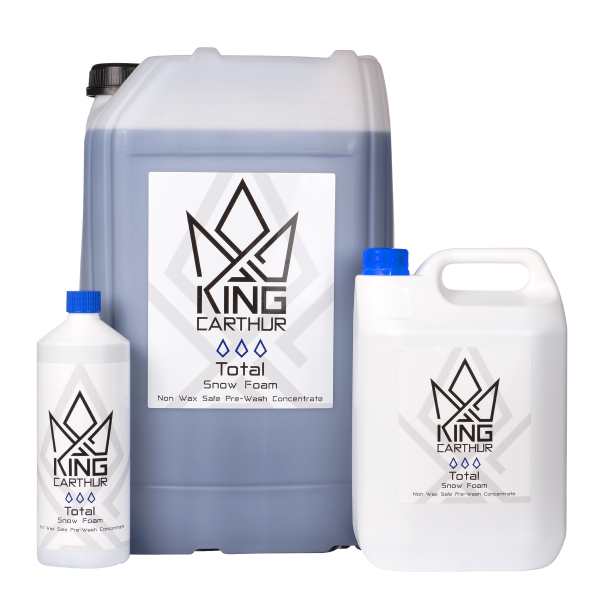 With the use of pre-detergent in the foam lance, the agent does not need to be diluted beforehand, but the agent is poured undiluted into the foam lance's container. The foam lance mixes and dilutes the agent with water directly.
Depending on the size of the vehicle, it takes about 1-2 dl of detergent for one wash. King Carthur Total Snow Foam works best when the foam is semi-thick, when it can sit long enough to dissolve the dirt and slowly drain off the car. Use the adjusting screw to adjust the dilution and thus the thickness of the foam. Spread the foam on the surface to be cleaned. Add from the bottom up. Let the product sit as long as possible without drying. Then rinse thoroughly with a pressure washer or garden hose.
If King Carthur Total Snow Foam is used as shampoo (for thorough cleaning), then mix the agent in a washing bucket, 1-30% strength, depending on the degree of soiling. Wash with a wash glove and use the two-bucket method . Distribute on the car a portion at a time. Rinse thoroughly.
Recommended mixing ratios:
1:100 – 1:200 = Cleaning on sensitive surfaces, interiors
1:50 = General cleaning, more resistant interiors
1:5 = Cleaning of stubborn dirt
1:3 = Powerful cleaning of oil residues and other very stubborn dirt
Characteristics
Product: Solvent King Carthur Total Snow Foam
Use: For pre-washing. Cleaning of stubborn dirt
Packaging: Plastic can, screw cap
Size: 1000 ml, 5000 ml or 25000 ml
Mixing ratio: 1:1 – 1:200. Depending on the degree of soiling
Very powerful cleaning properties
An excellent "all-round" pre-washer. Diluted
Biodegradable
Strongly alkaline