About Anine Bing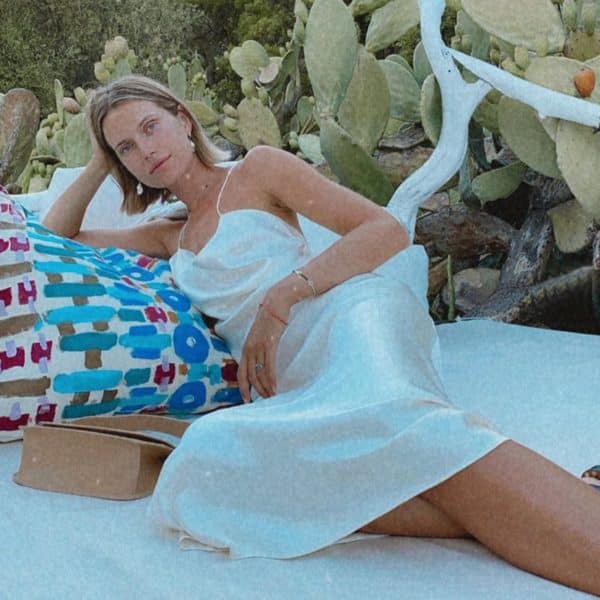 Anine Bing is an American women's fashion label that draws its inspiration from "Scandinavian simplicity and American energy." The brand sells everyday clothing pieces that evoke a timeless aura of cool, helping customers create a long-term wardrobe that isn't dependent on fads or trends.
This Anine Bing clothing review found features on the brand in such notable media sources as Forbes, WWD, The Cut, and Harpers Bazaar. The Anine Bing Instagram has a huge following of over 900K fashion lovers.
This Anine Bing clothing review will take an in-depth look at the brand, its products, customer ratings, promotions, and more to help you decide if these everyday essentials are the right fit for you.
Overview of Anine Bing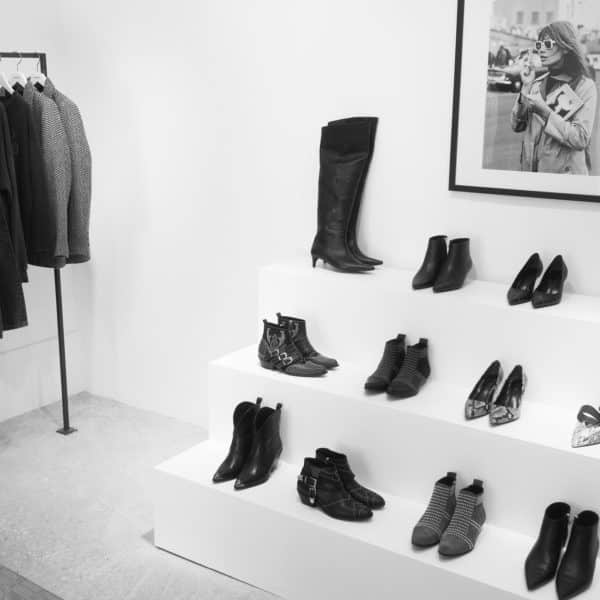 Anine Bing was founded in 2012 by the label's namesake and her husband, Nicolai. The couple's goal was to create a high-quality clothing line founded on the principle of simplicity, drawing on perennially popular looks to create pieces that will never go out of style.
Anine Bing's mission statement aligns the brand with the modern working woman, emphasizing how its clothing ties in with the larger campaign for female empowerment:
"We believe in the power of fashion to provide simple, bold dressing that inspires confidence…We advocate unapologetic individuality and creativity [and] we use our platform to encourage our customers to feel comfortable and powerful in their own skin."
Anine Bing is headquartered in Los Angeles, and its products are made from high-quality fabrics and materials at manufacturing centers in Turkey, China, and the US.
This Anine Bing clothing review will take a look at the top-line pros and cons of the brand before going deeper into the brand's products.
Pros
Timeless designs that will not go out of style
High-quality materials and fabrics
Global-E available internationally
Sold in over 350 retailers globally, as well as at 11 dedicated Anine Bing stores worldwide
Free US shipping
Cons
Clothes are not sustainably sourced
Small range of sizes
No free shipping and no Global-E availability for Europe and Israel
Mixed customer service reviews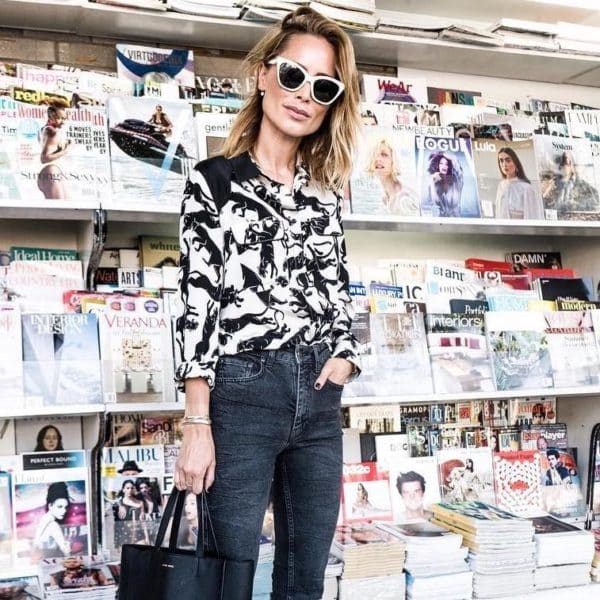 Known for their rock-inspired pieces, Anine Bing sells clothing, accessories, shoes, and jewelry that evoke that classic '50s rebel look in a modern context. Stay tuned as this Anine Bing clothing review takes you through a selection of the brand's bestselling items.
Anine Bing T-Shirts & Sweaters Review
Anine Bing sells a large range of T-shirts and sweatshirts, some as part of collaborations with notable designers. For those about to rock, this Anine Bing clothing review salutes you as we start our survey of some of the brand's top tops.
Anine Bing Tiger Sweatshirt Review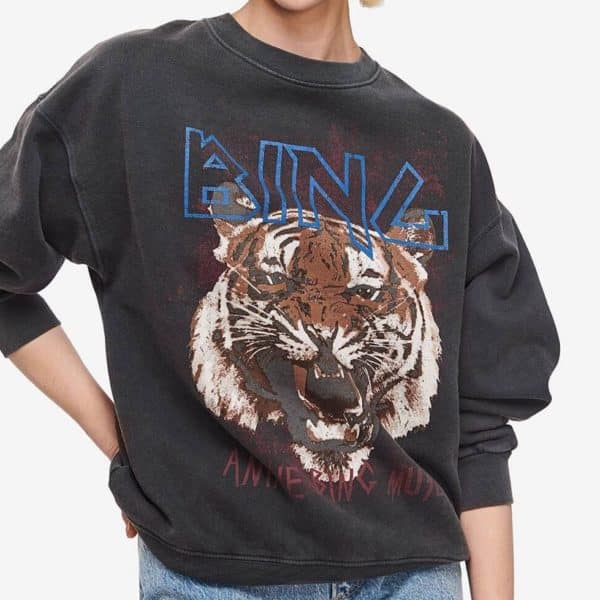 We're still pretty much living in sweatshirts right now, so why not buy one that's a cut above the rest? The Tiger Sweatshirt comes in classic black with a cool vintage feel, and the snarling tiger head and jagged lettering give it the look of a souvenir shirt from an '80s arena rock tour.
Every sweatshirt is handcrafted and garment-dyed, so each one will look and wash differently. It has a high crew neck and an oversized, boxy silhouette from its modern and minimalist structure, so it's recommended that you get your regular size.
Made of 100% cotton, the super-comfortable Anine Bing sweatshirt can be worn with sweatpants or leggings for a casual look, or you can dress it up with jeans or leather pants. Get it for $169, or, if rock chic isn't your thing, try out the collegiate-style Anine Bing Ramona Sweatshirt for the same price.
Anine Bing Vintage Bing Tee Review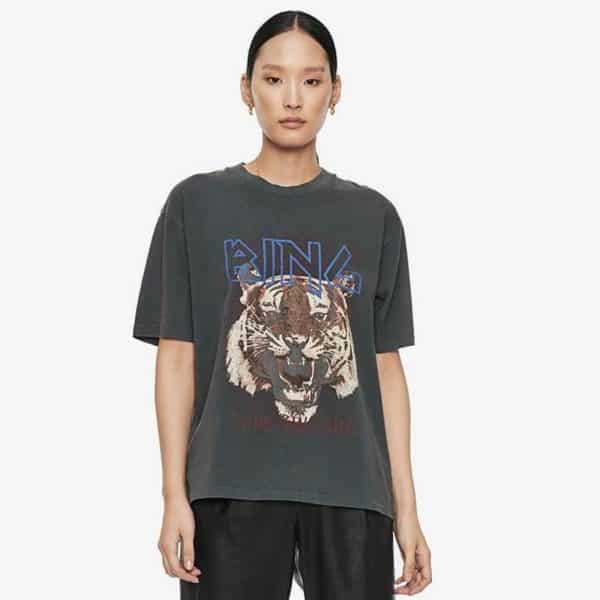 The Vintage Bing Tee is the type of T-shirt we all hope to find at the thrift store. It's got a vintage look and feel thanks to its faded wash and boyfriend fit, and a snarkily balls-out design that evokes the brand's L.A. roots and rock 'n' roll inspiration.
Made from super-soft 100% cotton, this T-shirt comes in black or vintage white and is perfect for
pairing with leather or denim to achieve that classic cool-girl look. Every piece is handcrafted, so the look and color of each will slightly vary, making yours individual to you.
The Vintage Bing Tee has a more relaxed fit, so size it down if you're after a more fitted look. This kick-ass top retails for $99.
Anine Bing Tiger Tee Review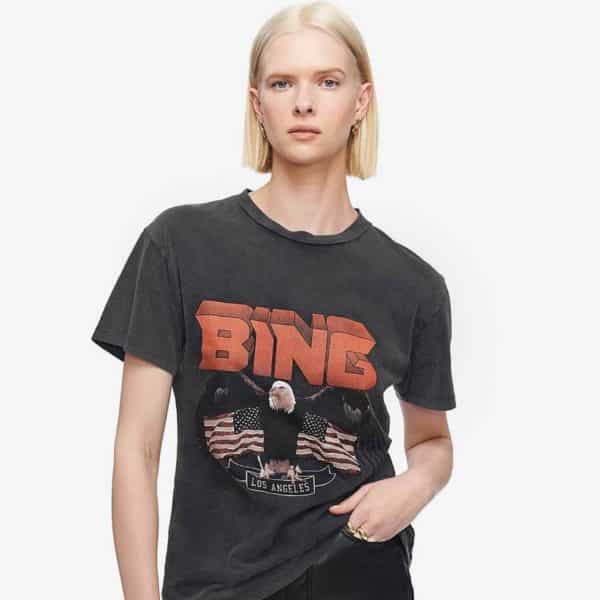 The iconic Anine Bing tee that inspired the Tiger Sweatshirt, the Tiger Tee is the kind of piece you keep in your closet for years, because it's just that damn good. It comes in a washed black shade with a crew neck and slightly cropped bottom, creating a neutral canvas that makes the vivid tiger-head graphic leap out all the more.
The Tiger Tee is made of 100% cotton and comes pre-shrunk, so get your normal size for optimum fit and look. For ultimate comfort, wear this over the Anine Bing bralette. This classic Anine Bing T-shirt costs $99, and will be worth every penny.
Anine Bing Ida Tee AB X TO David Bowie Review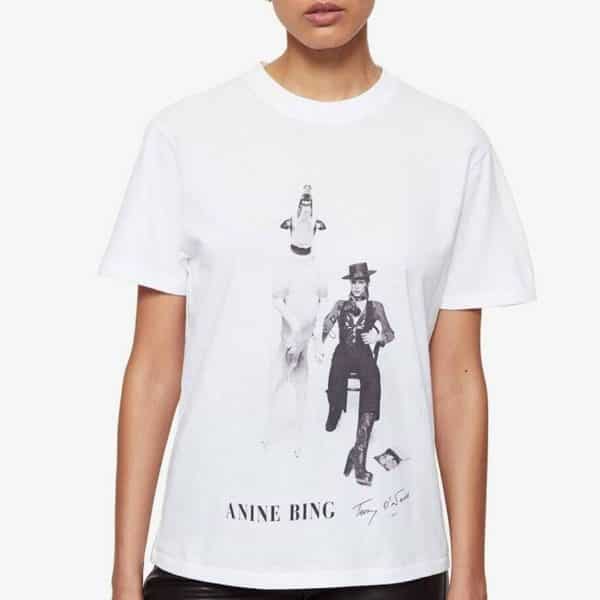 The limited-edition Ida Tee AB X TO David Bowie marks a real meeting of the minds. Brand founder Anine Bing\\ was heavily inspired by the work of rock photographer Terry O'Neill when developing the aesthetic of her clothing line, and this tee brings the two artists together with its screen-printed reproduction of one of O'Neil's iconic snaps of the Thin White Duke.
Made of 100% cotton, this tee was stone-washed to give it that cool vintage look. It has a loose and boxy fit, so get your regular size. You can buy the Ida Tee AB X TO David Bowie in black or white for $99.
Anine Bing Charlie Boots Review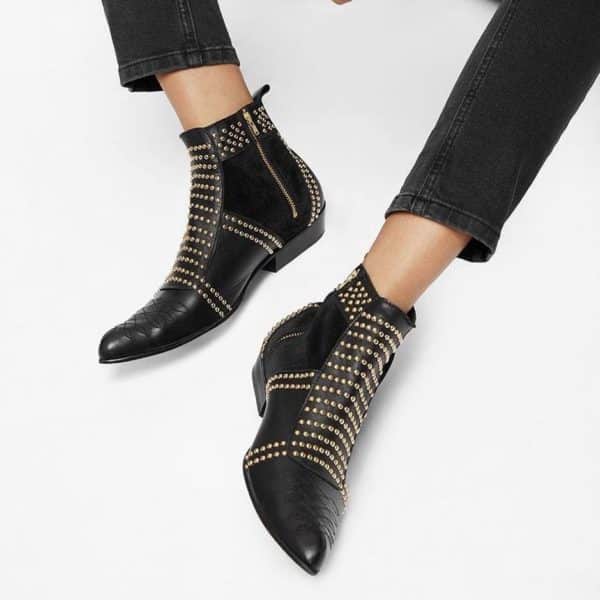 The Charlie Boots are the footwear of our rock 'n' roll dreams. They have a stunning studded design and a super-flattering elongated shape on the toe box. Pair them with a dress, skirt, or pants for instant rocker chic.
These boots are made of 100% soft leather and sport gorgeous hand-stitched detailing. Choose your studs in either gold or silver, and then choose your stud from the slack-jawed male horde that'll flock around you. These bestselling Anine Bing boots retail for $699.
Anine Bing Benjamin Moto Jacket Review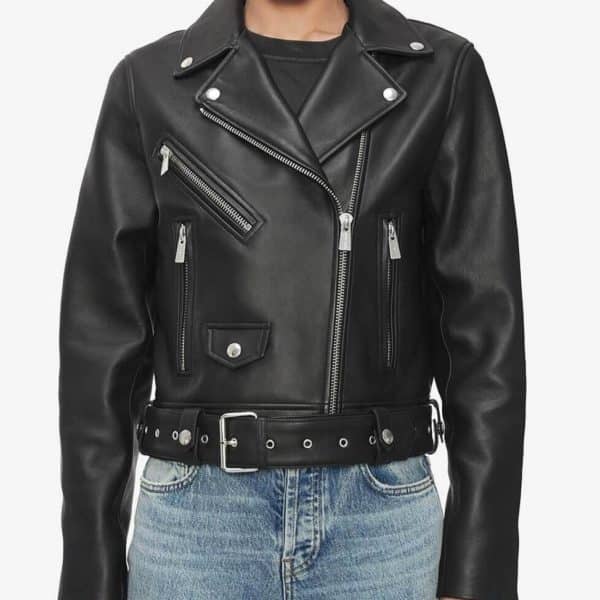 A leather jacket is a year-round staple that absolutely needs to be in your closet, if it isn't already. With its timeless look, feel, and fit, the Benjamin Moto Jacket can be worn in almost every season with almost any outfit.
Made of 100% supple black leather with gleaming silver hardware, this everyday jacket is slightly cropped and has a regular fit, so you should get your normal size. Get ageless style with the Benjamin Moto Jacket for $1,099—it'll be your new go-to jacket, trust us!
Anine Bing Bar Silk Skirt Review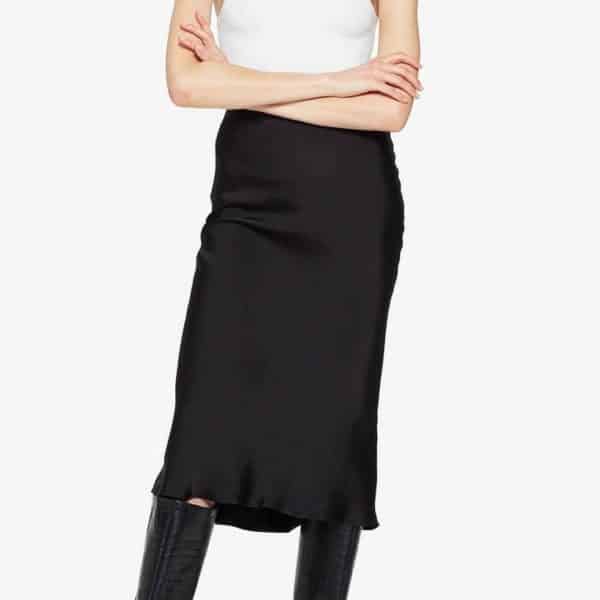 The classically styled Bar Silk Skirt perfectly skims over the curves of your body to give you alluring definition without being tight-fitting. With its French seam and midi-length, this will dress up effortlessly and add a touch of sophistication to your more casual looks. (Our opinion? Rock this with Doc Martens for instant edge.)
The perfect alternative to the Anine Bing dress for those non-dress girls among us, the stunning Bar Silk Skirt is made from 100% silk and retails for $249.
Anine Bing Natasha Clutch AB X HC Review
A prize item from the brand's collaboration with legendary supermodel and designer Helena Christensen, the Natasha Clutch AB X HC is the perfect bag for your evening out, wherever you're going and whatever you're doing. The green leather has a wonderfully smooth feel, and the magnetic seal on the front makes your belongings easily accessible yet totally secure.
Move fast on this essential clutch: it's discounted for final sale at $259, down from the regular $399. If you're looking for a larger bag with a comparable horizontal-stitch design, try the more textured Anine Bing Coco Tote.
Anine Bing Link Drop Earrings Review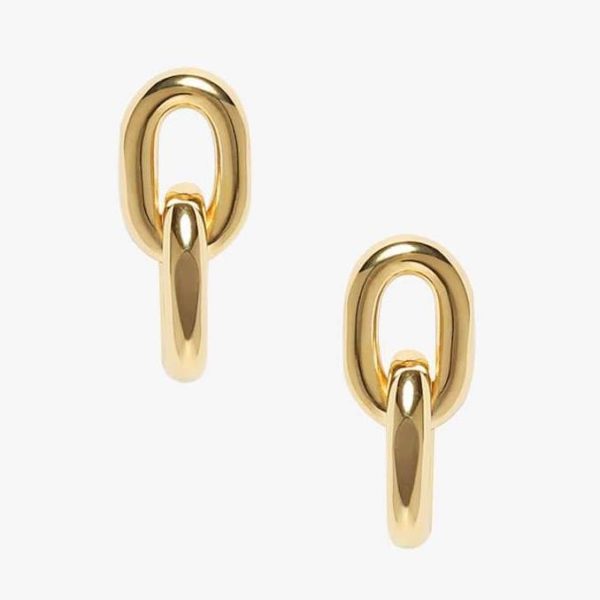 Drop hoop earrings are classic pieces that will never go out of style and will elevate any look.
The Link Drop Earrings offer a modern take on the classic hoops, with a chain-link construction that evokes industrial design but retains a classy and sophisticated edge with their gold or silver sheen.
Get these in either 14K yellow gold or 925K sterling silver and pair them with anything from a little black dress to a monochromatic sweatsuit—no matter what look you're rocking, these earrings will help you be the best-dressed every time.
The Link Drop Earrings will run you $129 in sterling silver,or $799 in gold.
Anine Bing Reviews: What Do Customers Think?
This Anine Bing Clothing review took a look at customer reviews online to see what buyers are really saying about this rock-chic fashion line. We discovered a pretty marked variance between the reviews on the brand website and comments elsewhere.
On aninebing.com, all the bestselling items listed above receive a perfect average rating of 5/5 stars. Given the low number of reviews for a number of these products, though, it's worth keeping in mind that some brands filter reviews on their websites to keep only the good ones.
But let's stick to the positives for the moment. Buyers loved the Tiger Sweatshirt for its go-anywhere quality and comfy fit. "Love my tiger sweatshirt. It is a comfy oversized fit and it looks great with jeans and sweats. Great athleisure wardrobe piece," said one representative review.
Reviewers had similar things to say about the Charlie Boots, with one customer praising their adaptable fit and the way they instantly class up any look:
"I hesitated on these because my feet are a little wide and pointy toes can mean trouble. But the leather is so soft, this boot just molded to my foot within a couple of short wearings. Top notch quality and unique style. They elevate my simple look. I can wear these every day with everything."
Facebook reviews of the brand are considerably more mixed, yielding a rating of 3.9/5 stars based on 118 reviews. Commenters had high praise for the products themselves, but some have had contrasting experiences with the brand's customer service.
One very satisfied customer wrote that "They have some of the best customer service teams around. Absolutely STELLAR. Also, the clothes are gorgeous and made with fantastic quality but we knew this already."
That verdict was countered by another commenter, who was of the opinion that "the Customer Service is very poor. It appears very helpful however there is absolutely no follow up and no follow through."
Things really go downhill at Trustpilot, where the brand has an officially "Bad" rating of 1.4/5 stars from 45 reviews. The hopping-mad commenters on this site feel that the clothing' quality is poor and the price is high.
"I'm surprised the prices are what they are given the poor quality. The markup is insane on what it costs Anine to produce her items out of China and Turkey. Wish her quality matched the prices, I would be happy to pay them," said one acid-tongued reviewer.
Commenters on this site have also complained about the brand's "non-existent customer service" and had issues with returns: "Sale items on the website are final sale only – returns and exchanges not allowed, even for credit."
None of that sounds great, but keep this in mind: the total number of Trustpilot customer reviews was as low or lower than the average number of individual product reviews on aninebing.com. And whereas the reviews on the brand website skewed highly (and perhaps suspiciously) positive, the reviews on Trustpilot skewed highly (and perhaps suspiciously) negative.
Trustpilot is typically a quite reliable gauge of consumer satisfaction with brands, but the low turnout and exceedingly negative feedback about Anine Bing suggests that, in this instance, we can't look on this as a truly representative sample of customer opinion.
Is Anine Bing Clothing Worth It?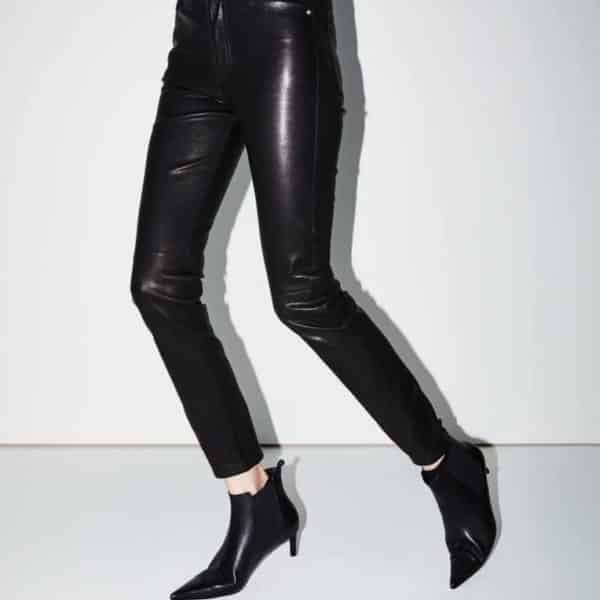 If you are wondering if Anine Bing clothing is worth it, we think it is. The brand makes high-quality products that are designed for easy, everyday wear, and we love the brand's timeless designs and comfortable fabrics.
The majority of negative and mixed reviews of the brand focused on its customer service. Customers also didn't like that you are unable to return items that are on sale. This suggests that you may be better off purchasing Anine Bing products from other online retailers rather than directly from their website.
That word of caution aside, this Anine Bing clothing review thinks that the clothes themselves are to die for, and maybe even die in—after all, remember that great mid-century line about living fast, dying young, and leaving a good-looking corpse? (Note: this Anine Bing clothing review strongly suggests that you not seek to do any of the above.)
Anine Bing Promotions & Discounts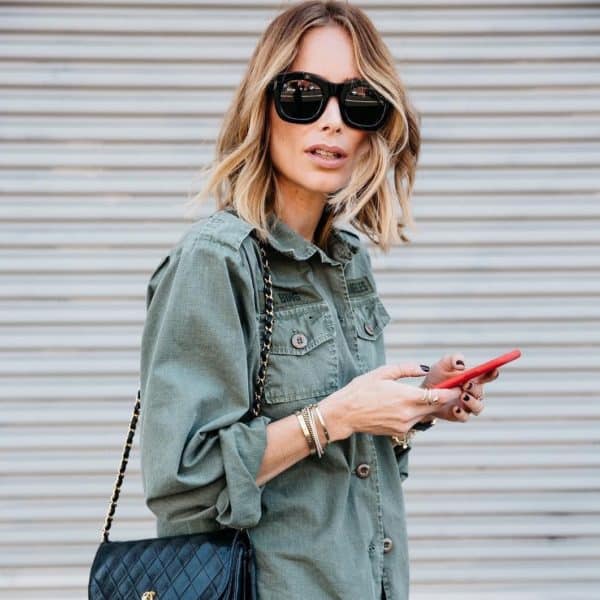 There are currently no Anine Bing promotions or discounts on aninebing.com. If you are looking for an Anine Bing sale, you can keep tabs on the regularly updated "Sale" section of their website.
Where to Buy Anine Bing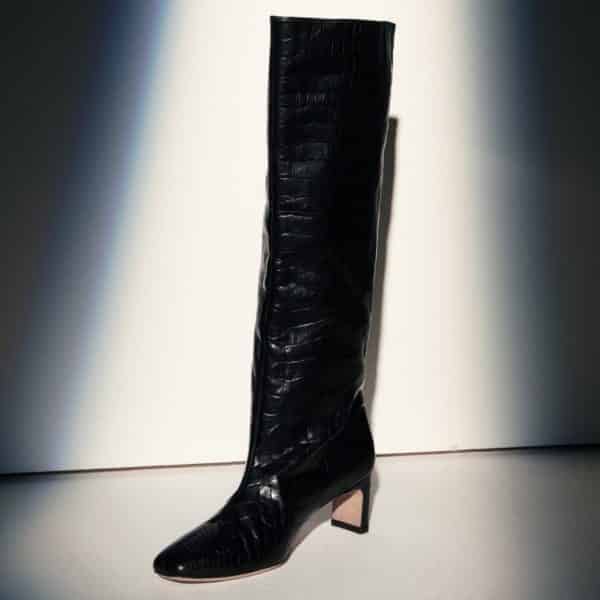 You can buy Anine Bing clothing from aninebing.com, or from online and physical retailers like TNT, Nordstrom, Revolve, and Bloomingdale's. If you want the full brick-and-mortar Anine Bing experience, visit one of their stores in the following locations:
Anine Bing Pacific Palisades (California)
Anine Bing San Francisco (California)
Anine Bing Miami (Florida)
Anine Bing Soho (New York, NY)
Anine Bing Madison (New York, NY)
Anine Bing West Village (New York, NY)
Anine Bing Sydney (Australia)
Anine Bing Mayfair (London, England)
Anine Bing Paris (France)
Anine Bing Berlin (Germany)
Anine Bing Hamburg (Germany)
FAQ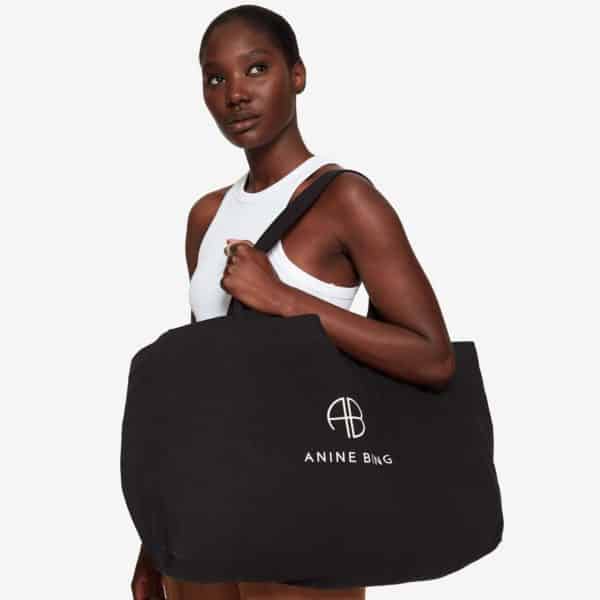 Where is Anine Bing made?
This Anine Bing clothing review found that their products are made in Turkey, China, and the US. Individual product pages on the brand website typically indicate where the respective items were manufactured.
Is Anine Bing sustainable?
Short answer: no. This Anine Bing clothing review found that the brand does not use sustainable materials, and does not give much information regarding their manufacturing process.
What sizes does Anine Bing have?
This Anine Bing clothing review found that the brand carries sizes XS-L in clothing. Shoe sizes range from women's 6-11.
What is Anine Bing's Shipping Policy?
Anine Bing offers free shipping on most orders to the US and worldwide, excluding Europe and Israel. Global-e checkout, which provides regional-specific currency and shipping options for international orders, is also available for territories outside the two listed above.
US orders are shipped via FedEx, while international orders are shipped via DHL. US orders will take less than 5 business days to arrive.
What is the Anine Bing Returns Policy?
This Anine Bing clothing review found that the brand offers free returns and exchanges within 14 days. Items must be unworn and unwashed to be eligible for return.
If you want to initiate a return for a US order, email [email protected] and follow the directions of the Anine Bing customer representative. Your order will have come with a return form and prepaid shipping label. International customers must use the Global-e returns portal to submit a request and receive their return label.
How to Contact Anine Bing Customer Service
If you are looking for any info that this Anine Bing clothing review did not provide, you can contact the brand via email at [email protected]. You can also use the live chat on their website or leave a note on their "Contact Us" page.