The Girlfriend Collective FLOAT High Rise Legging is made to fit women of all shapes and sizes. These leggings come in multiple fun colors, besides just the traditional black. They are made to be soft, durable, and 100% recyclable. These are lighter and less compressive than some of the other Girlfriend Collective offerings.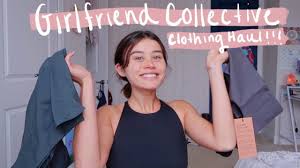 Who is the Girlfriend Collective?
Girlfriend Collective was founded by husband and wife couple Ellie and Quang Dinh in 2016. Ellie was tired of trying to find athleisure wear that wasn't eco-friendly. Her husband had just run across a way to make polyester completely from recycled water bottles, so the idea was born.
They began by offering free leggings in their Seattle base to get feedback on the product, once they figured out how to reasonably produce it. After about a year, they launched their online store and they've been on fire ever since.
The Girlfriend Collective's mission is to create sustainable activewear for those consumers that want to make a positive impact on the world with each purchase.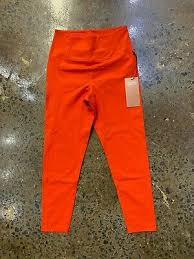 Girlfriend Collective Fit & Style
The Girlfriend Collective certainly piqued my interest since I try to be as eco-conscious as possible in my purchases. And since I wear leggings fairly often, the Girlfriend Collective FLOAT High Rise Legging seemed like a great choice for me. I ordered a size Small, which is my normal size, but it was a bit large. I think they would have done better overall if I had gone down a size.
Initially, I began testing these at the gym to see how they held up. They work beautifully as workout attire, as they don't show my underwear. However, whenever I wore underwear with thicker lines (such as my MeUndies) the panty lines would show. This isn't a big deal for me as long as the pants aren't see through. Overall, they stay put and I love the high waist, as it helps hold everything in place.
The feel was soft and smooth, which was a bit surprising to me since I figured they may feel a bit stiffer due to being made out of recycled plastic. They also had nice, strong stitching throughout, which makes me think they will last a long time. While I really like these leggings, they seem to work better for me outside of the gym because they are a bit thicker. And I simply get too hot with these on when I'm working out
They are my favorite go-to leggings to wear when traveling though. This is due to the fact that they are aesthetically pleasing, super comfortable, stretchy, supportive, and compressive. When traveling, it's hard not to beat that.
And since I've had the same pair for almost 4 years now, they have been well worth the money. A lot of the other compressive leggings I've tried have failed a long time before even the 1 year mark. While these leggings have been worn and washed quite a few times and still have retained their original shape, texture, and color. I am simply in love with these!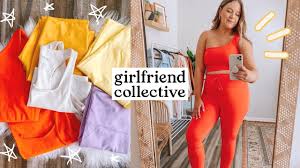 Is Girlfriend Collective Good Quality?
Girlfriend Collective products are made from recycled plastic water bottles and plastic food containers. They source these from the former Garbage Island in Taiwan, which is where most other countries have been dumping their recyclables for years.
High Quality Leggings
The factories they use in Taiwan to process the recycled plastic and manufacture the products are all SA8000 certified, as are they. This certification means these companies follow a standard set of guidelines to provide safe working conditions for all of the workers, as well as fair wages.
If you're a person who deems the quality and the workmanship provided to create the product important, then this quality standard should be high up on your list. Their products are created to last longer than most (especially since they're made out of plastic) and to be recycled at the end of their life also. They have a program called Regirlfriend. This program allows you to send them your old Girlfriend Collective clothing to recycle it into new products and you'll get a credit as a thank you towards future purchases. Pretty cool, huh?
Is Girlfriend Collective Worth It?
While Girlfriend Collective clothing may be on the more expensive side of things, they can be worth it for the social impact alone. A lot of this will come down to your ethics as a consumer and what's important to you. If you want to make a bigger ecological and social impact when you purchase clothing, then Girlfriend Collective clothes are certainly worth the price.
The extended longevity of the recycled material from Girlfriend Collective is a huge boon to their product's overall worth. And the fact that they can be recycled again once you're done with them makes them even more appealing. Just that fact alone may be worth the increased price tag.
But it doesn't hurt that their products are so soft, simple, aesthetically pleasing, stay put, and last a really long time either. It's really difficult to find a reason not to give Girlfriend Collective a try, to be honest
Girlfriend Collective Coupons & Discounts
Girlfriend Collective loves to give discounts to subscribers of their email list. They offer an initial 30% off your first purchase once you subscribe. Keep an eye on your email box after that because they tend to send out other emails with subsequent promotions. Plus, they also offer free shipping on any orders over $100.
If you want to save even more money though, you should consider joining their rewards club, The Collective. They will give you 25 points upon joining and you can earn points with every order to use towards future orders.
Frequently Asked Questions
Before you choose to purchase high-end leggings, there are bound to be questions. And since the Girlfriend Collective products are made out of recyclable plastic, we wanted to answer all of the most common questions before you buy.
Girlfriend Collective Summary
If you are someone who really likes athleisure wear and is eco-conscious, then the Girlfriend Collective may be just what you've been looking for. All of their products are made from recycled materials and are made for durability, longevity, aesthetic appeal, and a comfortable feel.
But, the price tag can be pretty steep on all of their items because it takes a lot to produce them through sustainable practices. Ultimately, it comes down to how much reducing your ecological footprint and the longevity of your clothing items means to you. If you are willing to pay more for products that last a lot longer and harm the earth less, then Girlfriend Collective is exactly what you've been looking for.