Aside from the Queen of England, Harry Potter, and a bone china tea set, nothing captures the essence of British culture quite like Burberry. Since Thomas Burberry opened the brand's first Basingstoke shop in 1856, Burberry has displayed a penchant for combining contemporary wants with our everyday needs. Its renowned gabardine trench coats were a staple for WW2 soldiers due to their functionality, and the brand has even received the royal stamp of approval from Queen Elizabeth II herself.
While Burberry oozes British culture like strawberry jam on a scone, the luxury brand is not bound only to its home island. Thanks to its fashion-forward leadership, (most notably creative director Riccardo Tisci, who debuted Burberry's new "TB" logo and monogram in 2018) Burberry has received international recognition for its modern meets traditional collections. The introduction of the Pocket Bag as a new signature silhouette in 2019 was a stark reminder of the brand's unwavering position when it comes to first-class accessories; a sentiment that has been further established by the release of its latest silhouette coined the Olympia Bag.
Whether you prefer a classic check or a vibrant style to stand out this summer, ahead, our British editor ranks the seven best Burberry bags made to inspire a "good show" response from onlookers, and can be used to fast-track your paperwork for becoming a full-fledged English citizen—that's a joke, unfortunately, we don't have Queen Elizabeth II on speed dial just yet.
1 /7 Burberry Pocket Tote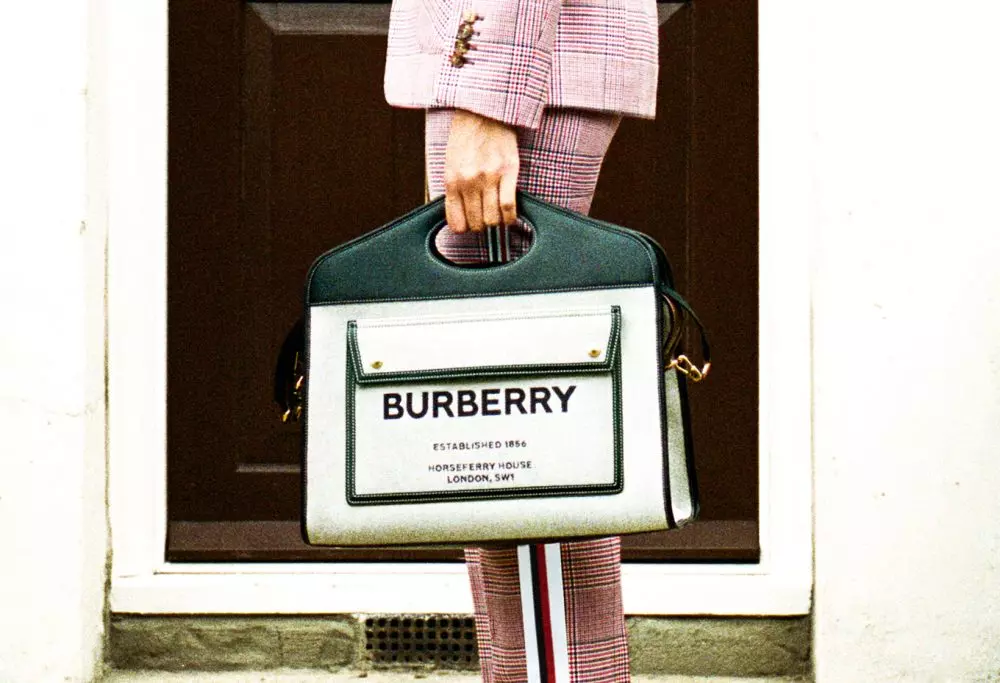 In the top spot is the Burberry Pocket Tote. Taking inspiration from an archival Burberry bag known as the Michelle Shopper, a soft luggage-style sold between 1981 to 1990, Riccardo Tisci reinterpreted this vintage silhouette by adding a wide pocket on the front (hence the name), topstitching, and leather tapping to evoke a contemporary feeling. The result? A tote made for urbanites.
What we love most about the Pocket is its polished surface and structure—signature qualities of the British brand. The spacious front interior pocket ensures easy access to your necessities, like your AirPods and summer book, for when you need to pass the time on the tube (that's the subway for our American brothers and sisters), and the sleek leather top handles means you can make a quick but fashionable exit when happy hour hits.
With its boxy silhouette, we can't help but notice the parallels between a gentleman's briefcase carried by white-collared workers lunching on Bond Street, or heading to the offices in Canary Wharf. But what makes the Pocket a supreme accessory is its versatility. The adjustable strap, and fold-over handle styles, allow you to transform this business bag into a relaxed bag made for craft beer taverns in Shoreditch. And Burberry even offers the Pocket in an environmentally-conscious e-canvas material, which uses less water and Co2 than traditional bag coatings.
We dare you to find something not to like about this bag. In fact, we'll wait, but only until our tea goes cold.
2 /7 Burberry Olympia Bag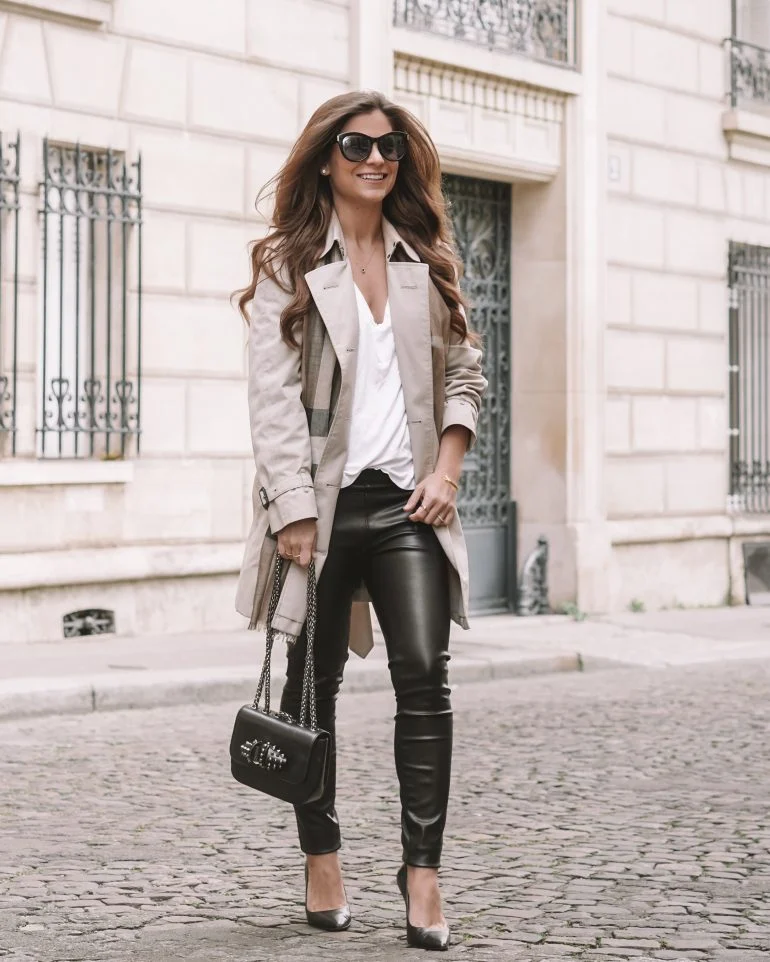 Though the Olympia Bag first appeared in Burberry's fall/winter 2020 show, the latest campaign starring FKA Twigs, Kendall Jenner, and Shy Girl suggests this accessory isn't disappearing anytime soon. We would go as far as to say you're looking at the next "it" bag, hence why it's in the second spot on our list.
Available in a wide range of designs and sizes, including a medium juniper green and small classic black, the Olympia speaks to the untapped goddess in all of us—who embraces her femininity and isn't afraid to stand out. While the designs will initially attract your attention, it's the structure that makes the bag a lifelong companion. Inspired by Greek architecture, the Olympia is designed to fit effortlessly over your shoulder or in your hand as a natural extension of you.
While the half-moon shape and polished outer are new, there's an undeniable familiarity to the bag—its evocative of the baguette silhouettes that dominated the '90s and the '00s. Across the pond, Fendi and Dior iterations were sported by Paris Hilton and Kim Kardashian; whereas on British soil, style front-runners and certified WAGS Victoria Beckham and Cheryl Cole opted for Louis Vuitton. It's this rich history, the circular nature of fashion, and the simple femininity of the baguette that makes it so popular— and it's the similarity as well as Burberry's expert craftsmanship that has positioned the Olympia as a must-have bag.
3 /7 Burberry Lola Bag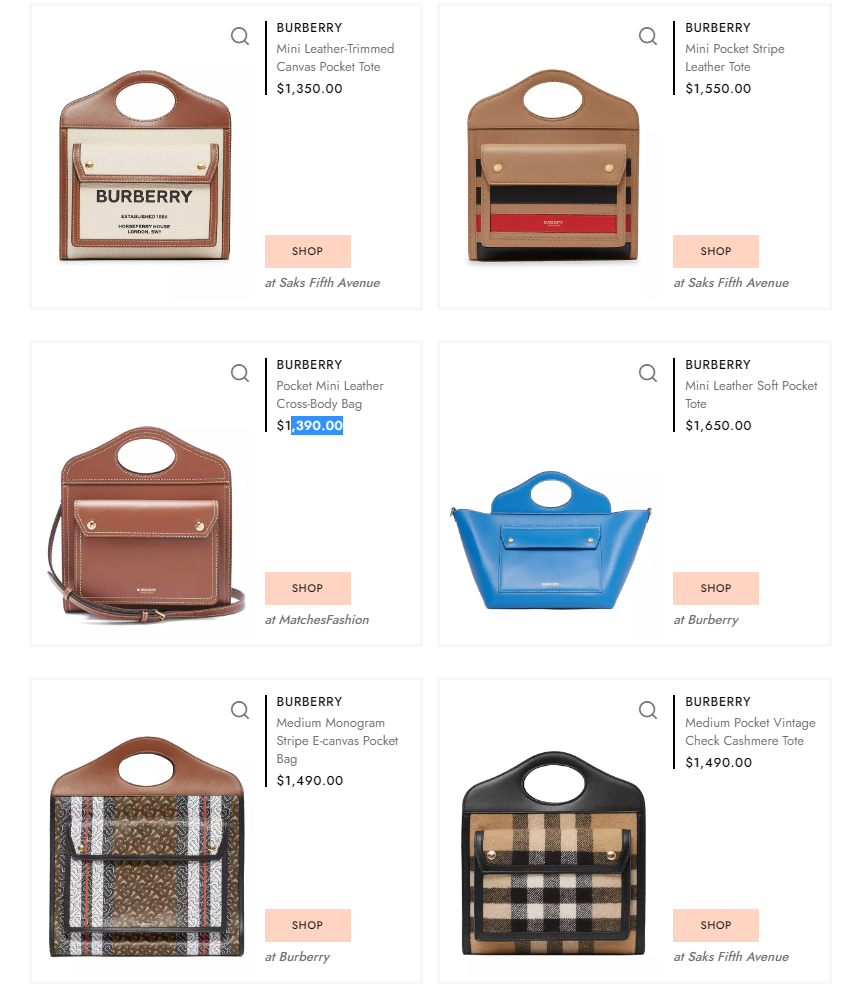 We're an absolute sucker for a bag with a name, as to bestow such a thing on an accessory is to stitch meaning into its very seams—just look at the Hermès Birkin. Named after the song "Lola" by '60s British rock band The Kinks, the Lola is considered the younger sister of the TB Bag (more of that to come) as its appearance mirrors the youthful spirit within all of us; it's this rebellious attitude that attracts us to this accessory, and following a year of being cooped up, don't we all just want to be a little rebellious?
Though the notion of British culture conjures up images of Downtown Abbey and the finer things in life, the Lola epitomizes the nitty-gritty underground-music fuelled side of Britain. After all, we are the birthplace of The Rolling Stones, the grunge queen Kate Moss, and the soulful Amy Winehouse. This type of aesthetic is found on the white silver chain bag emblazoned with the Burberry logo that is set in a font similar to the posters found in Notting Hill Arts Club and Brixton bars. However, if you don't want to go all rock and roll why not opt for the classic black Lola with a chunky brown chain? It won't put you center stage, but you will stand out.
4 /7 Burberry TB Bag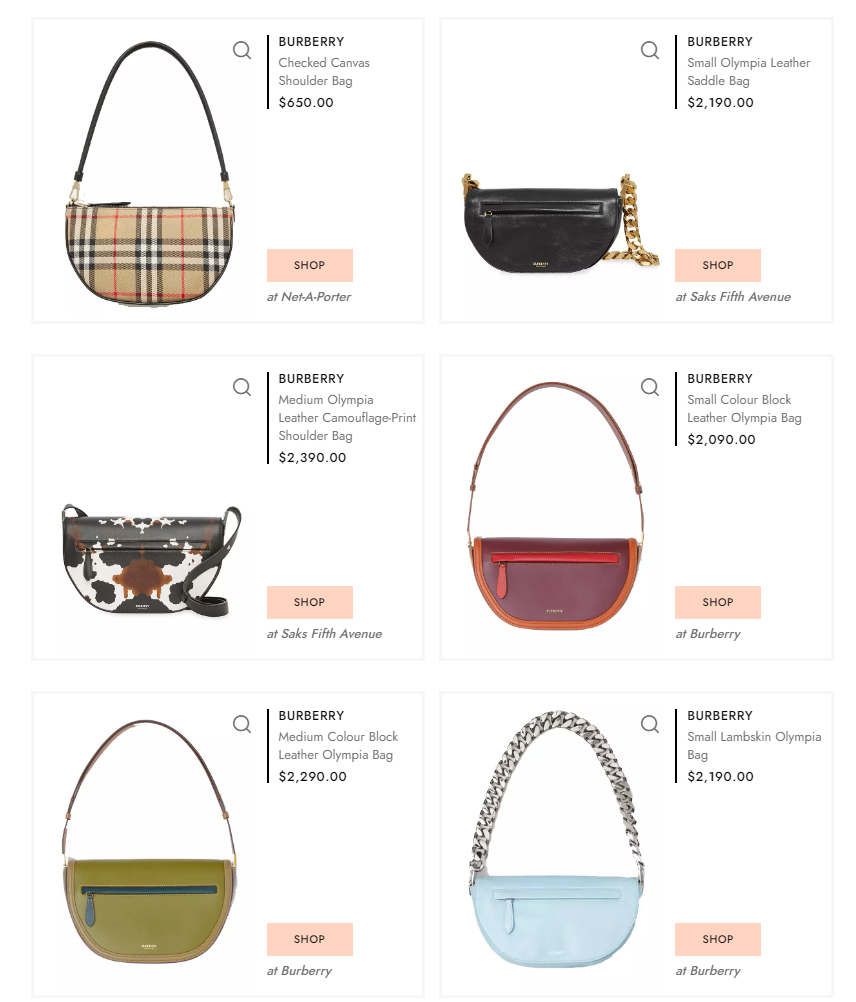 Please welcome Lola's older sister: the TB Bag. A signature piece from Riccardo Tisci's debut fall 2019 collection, the carry-all is an ode to the Burberry founder Thomas Burberry—shown by the gold hardware initials. It's this marriage of referencing the past while embracing the future, that makes the TB so intriguing and it's the reason why it's fourth on our list. Well, that and its lust-worthy designs.
To sport the TB is to carry a fashionable historical artifact symbolizing English brilliance, as not only did Burberry's trench coat protect soldiers from tumultuous weather conditions but it also shielded them from enemy fire thanks to its earthy colors. Such brilliant craftsmanship is also apparent in the calf leather bags' structured silhouette and the gold clasp that fits perfectly with the gold initials—like the past and the present.
The soft-structured bags are available in designs from trusty leather to two-tone canvas, to new color block styles; our favorite is the military green design that gives an updated feeling to the traditional check. Each bag comes with an adjustable chain or leather strap so you can easily add the TB into your accessory rotation and you can wear it like the trench coat, come rain, wind, or snow.
5 /7 Burberry Bucket Bag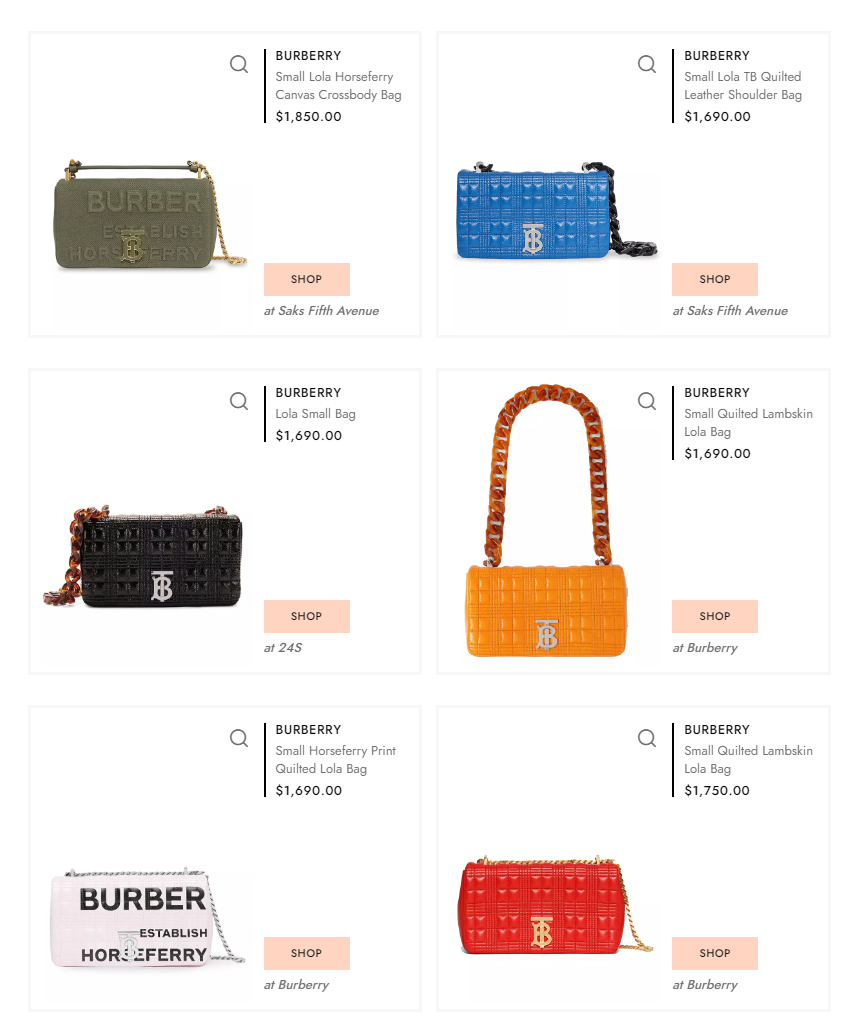 Fifth on our list is the often forgotten dark horse of accessories known as the bucket bag. With its sophisticated ruched silhouette, there's really no other bag you need in your arsenal. And we don't say that lightly. Put it this way, if Mary Poppins was a modern woman and she needed a spacious bag that could take her from morning Pilates to nannying, to evening drinks, this bag could do it and probably say supercalifragilisticexpialidocious at the same time—it's that good.
Though Louis Vuitton is considered the original creator of the silhouette (Gaston Louis Vuitton designed the Noé in 1932 to safely transport champagne bottles), that hasn't stopped Burberry from creating its own version. From streetwear-inspired nylon silhouettes made to brave Britain's stereotypically drizzly weather to monogram styles meant for turning everyday errands into a high-fashion spectacle, the bucket bag is comfortable (see its soft straps), reliable, and suitable for everyone.
6 /7 Burberry Title Bag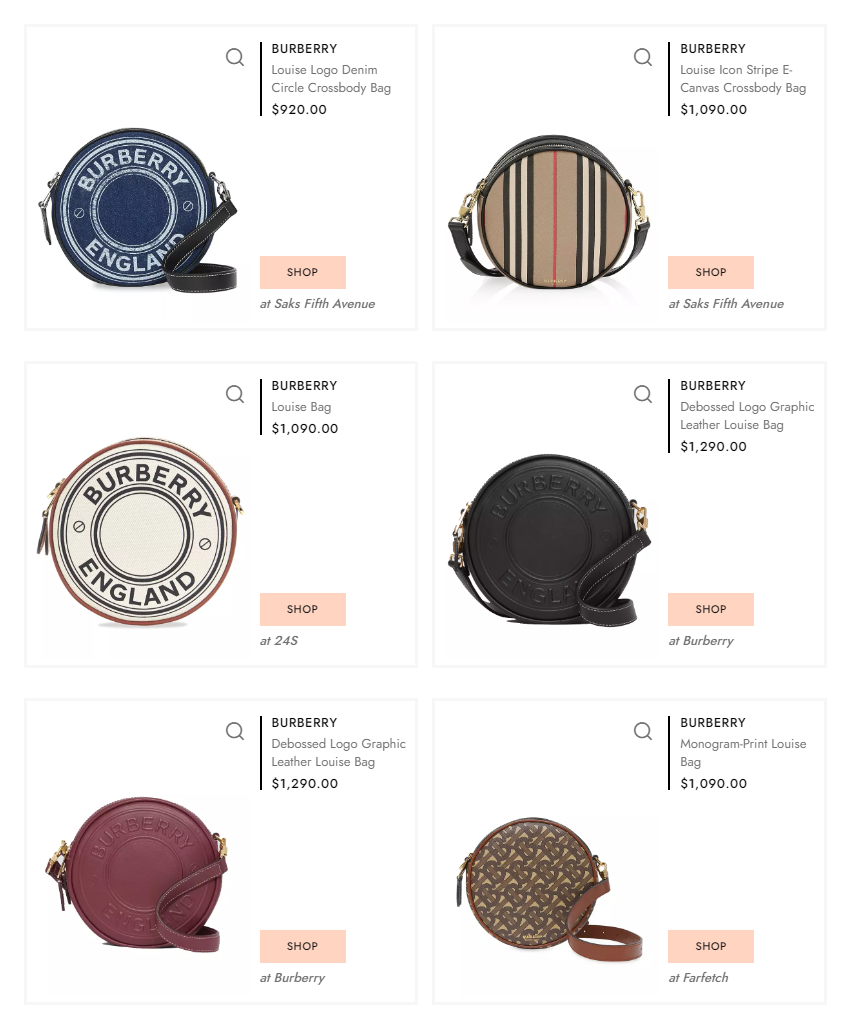 The Title Bags' beauty lies in its embodiment of old-school femininity, demonstrated in the top handle silhouette that is reminiscent of the '50s top and the shoulder strap styles first pioneered by Chanel. But this isn't your standard women's bag.
Continuing the common thread of reimagining archival pieces in a contemporary manner, the Title is inspired by vintage military bags. This fusion is present in the use of metal studs which are used to decorate and secure the bag's pocket, so you don't have to worry about your favorite lipstick or hand cream running away. It's this overt juxtaposition between the traditionally masculine design features, like the studs, and the Italian minimalist soft leather that makes this bag worth remembering.
7 /7 Burberry Louise Bag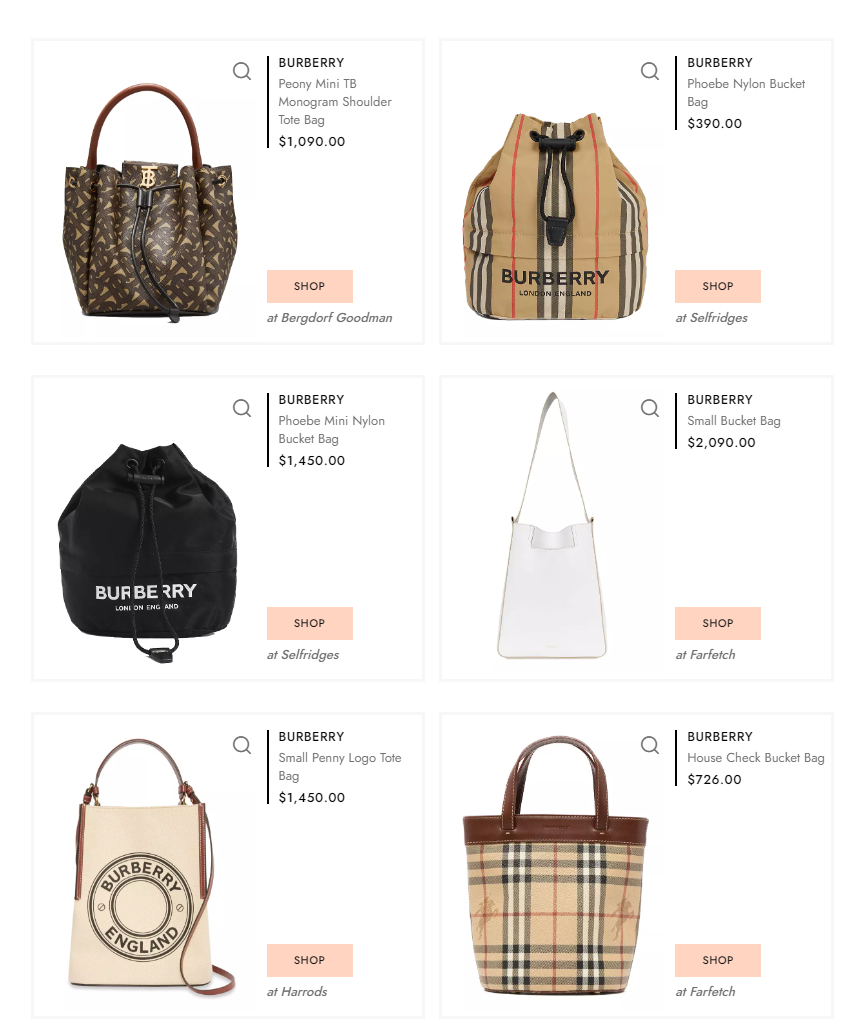 Though it may be last on our list, the Louise is a front-runner in our hearts for its impeccable design qualities. Named after Queen Victoria's daughter, the Louise is your ticket to a hands-free life. And isn't that something we want to continue after a year of not having to carry countless sunglasses and too many lips balms to count?
Constructed using soft leather and canvas, this simple circular bag is your versatile and expansive accessory companion. Its adjustable leather straps can be worn four different ways: over the shoulder, across the body, around the waist, or, if the moment strikes you, remove the straps completely and wear it as a clutch—the choice is yours. What's more, the bag is spacious. That's right, there's no need to play favorites when it comes to beauty products. The Louise comes with two interior compartments made for extra space and extra fun, which is really all we ever want in a handbag. We recommend putting it to work on your next disco night—the easy throw-on quality means you can boogie all night long without a care in the world.